Buying a house in Canada: What you should know!
Admin
Buying a house in Canada is the interest of many people who are intending to study, live and work in this country for a long time. So what is the home buying experience in Canada? Let's join with Le Immigration Group to learn more about real estate investment in the land of maple leaves!
Experience of buying a house in Canada that you should know
Can foreigners, non-permanent residents, and international students buy houses in Canada? The answer is YES. As long as you want, and have money, you can absolutely buy a house in this country. Here are the home buying experiences in Canada that you need to know.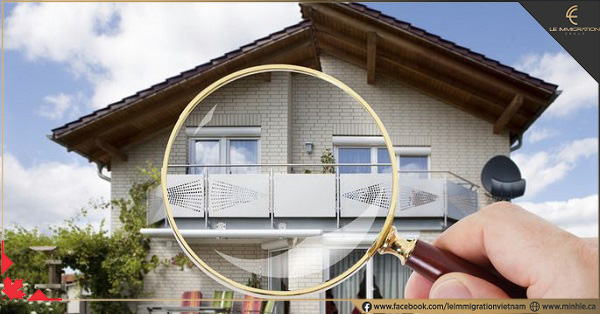 Summary of home buying experience in Canada
Determining when to buy a house
The ideal time to buy is when you know that you are ready to buy a house. Here are 6 signs that you're ready:
You already have a stable job in Canada, and plan to settle permanently in this country.

You envision your dream home in the next 15 years.

Your current home doesn't meet your long-term needs.

You are in a comfortable economic situation, have no debt or have manageable debt.

You accept the costs incurred by owning your own home.

You feel satisfied paying the mortgage instead of the monthly rent.
Determine your own financial capacity
In the context of the world economy slowing down because of the Covid-19 pandemic, house prices in Canada will still increase by 9% in 2021. Some major cities in Canada such as Vancouver or Toronto, house prices fluctuate at the moment: from 800,000 to 1,000,000 CAD. Meanwhile, some small cities like Regina will have lower house prices, about 300,000 CAD.
In addition to the purchase price, you also have to pay many other fees, including: property or land transfer tax, bank appraisal fee (if applicable), home inspection fee, home insurance, real estate brokerage fee, legalization service fee, and many other related taxes and expenses.
Based on these fees, you will know how financially prepared you should be. In case you have money to pay 100% of the value, there is no doubt. But if you don't have enough money, you can learn about home buying policies or loans. You only need to have from 50% of the house value to be able to buy a house with installment payments.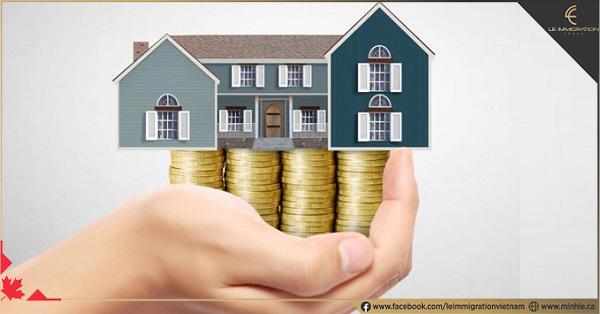 Financial preparation is one of the mandatory conditions for buying a home in Canada
Locate the house
Once you have a cost estimation for buying a house, you need to determine the location of the house according to the following criteria: the school for your children, the shopping location (commercial center, market, etc.), the office working distance, the park, the nature trail, or a loved one's home or relative family.
From these factors, you can zoning and choosing a suitable house location.
Determine the type of house you want to live in
The next home buying phase is choosing the type of house you want to live in. Canadian housing is divided into two categories: private houses, and condos.
Private house:

This is a type of housing where you have the right to own the entire house and the surrounding land on the ownership papers. You don't have to share the space, or pay management or maintenance fees to anyone. Some common types of private houses are detached houses and semi-detached houses.

Condominium:

When buying this type of house, you only own the house/apartment but do not own the rest of the public sharing space of the building or the service management area. Each month, you pay a fee for the repair, maintenance, cleaning of the house/apartment and public areas. Some common types of condos are apartments and townhouses.
Private houses are often more expensive than condos. If your family has enough money, has a large number of members and wants to keep pets in the house, then a private house is the right choice. On the contrary, if you have limited finances, a family of only 3-4 members, a condo is a reasonable choice.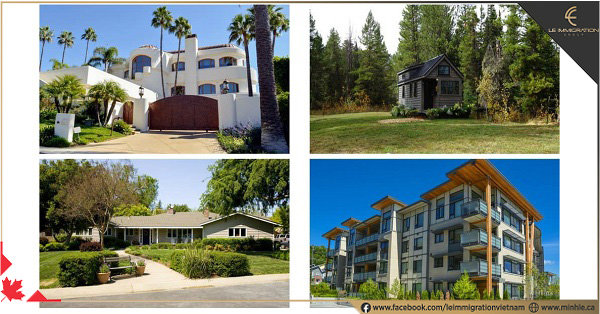 Types of houses in Canada
Does buying a home in Canada increase your chances of immigrating?
This is the question of many people who intend to invest and immigrate in Canada. However, buying a home does not give you the opportunity to apply for permanent residence in Canada, but it is certainly not harmful. So far, owning and living in a home in Canada through a Visitor Visa has not affected the immigration selection and review process.
You do not need to be disappointed if you cannot immigrate to Canada this way. There are many ways for you to get a Canadian permanent resident card, one of which is to immigrate to Canada by investment. With this method, your settlement happens faster according to the temporary work permit you have.
However, the investment to immigrate to Canada must be properly calculated according to many factors, such as assets, business plans and previous business experience of the person wanting to immigrate. All must be checked and approved by the provincial government or federal immigration departments.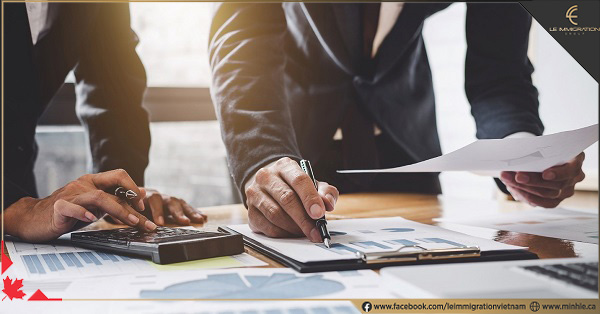 You can refer to the Canadian investment immigration programs to increase your chances of immigrating to this country
If you do not know how to apply for Canadian immigration, please immediately use the immigration consulting service of Le Immigration Group. With more than 20 years of experience in immigration consulting, we have helped thousands of entrepreneurs successfully set foot in Canada.
For any other questions and detailed advice, please do not hesitate to contact Le Immigration Group at our Hotline: 0937 168 599 for the best support.