Canada Ranks 2nd Best Country in the World, dominating immigration and investment index!
Admin
Canada took second place in the latest Anholt-Ipsos National Brand Index. Canada deserves this year's rankings.
New record: Canada ranked 2nd in National Brand Index 2021
The Anholt-Ipsos National Brand Index (NBI) 2021 has collected more than 60,000 online interviews in 20 countries, to rank the top 60 countries based on how they feel across multiple criteria.
As a result, Canada took second place overall with 70.64 points. The country of maple leaves topped the Country and People indexes, along with immigration and investment indexes, and scored high in export, tourism and culture criteria.
This is also Canada's highest-ever position on this ranking. Canada is also rated as an influential, friendly and crime-free country.
Top 10 National Brands by NBI in 2020
German

Canada

Japan

Italia

United Kingdom

France

Switzerland

America

Sweden

Australia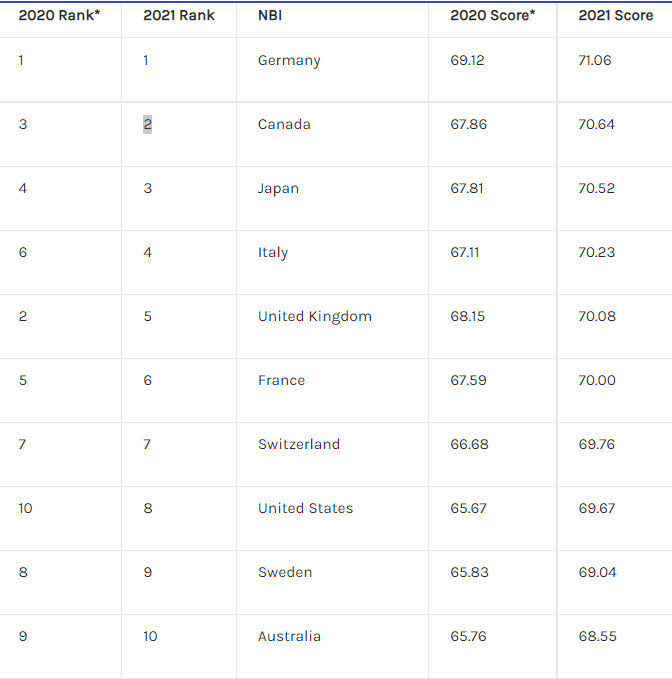 The NBI has been conducting National Reputation Ranking Surveys since 2015. Since then, Canada has consistently been in the top 10, and landed in 3rd place for the past few years. Until now this is the first time Canada took 2nd place this year from the UK, the country has slipped to 5th place in the rankings.
This year's ranking also witnessed quite spectacular reversals, with some countries strongly improving their reputations by activating the economic recovery and opening up tourism after well controlling the emerging pandemic, especially Canada, Italy and Japan. While Canada and Italy rose one place to rank 2nd and 3rd respectively, Italy rose two places to No.4 overall.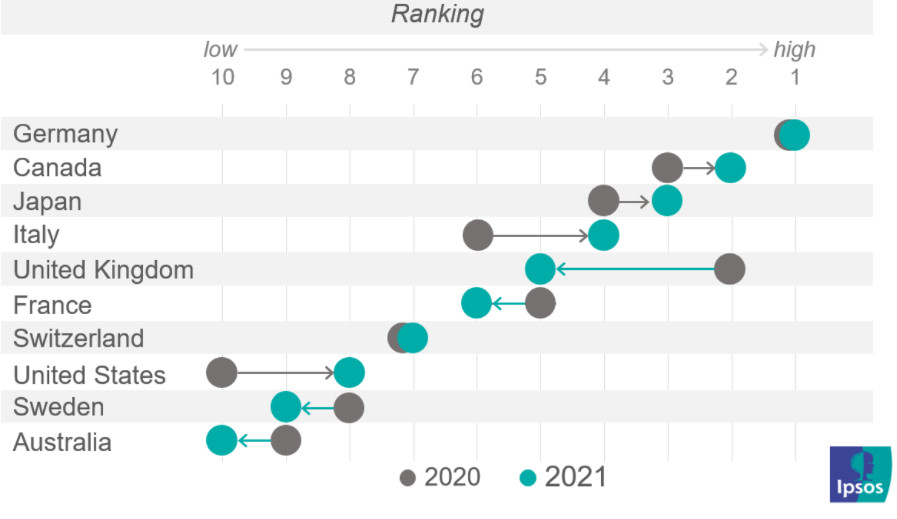 Canada and Japan rose 1 place, Italy increased 2 places in the NBI rankings in 2021.
Canada Ranked "Best Country for Immigration and Investment"
The Anholt-Ipsos National Brand Index (NBI) is a comprehensive study that assesses perceptions of 60 countries surveyed in 20 countries. Survey respondents rate countries based on how they feel about six different categories or criteria: exports, governance, culture, people, tourism, migration and investment.
As you can see, one of the 6 components that make up the National Brand Index is Immigration and Investment (This component reflects the ability to attract people to live, work and perceive the quality of the business environment and the lives of a country). Canada held the No.1 position among all the countries ranked.
The survey also showed that, while foreigners have a positive view of Canada, the neighboring country in the North is quite low on the ranking map.
The U.S. ranking plummeted in 2020, from 6th to 10th. A year later, despite the pandemic still raging in the United States, wide political divisions in society, and hesitancy about vaccines, the U.S. reputation began to recover and improve in each of these areas and landed at No.8 in the rankings. However, this number also shows a clear decline compared to 5 years ago, when the United States held the top position on this list.
Source: blogTO
Should you have any questions about Canada immigration documents and procedures, please do not hesitate to contact us at the following information:
The Immigration Group
Address:  Tầng 17, TNG Tower, 180-192 Nguyễn Công Trứ, P. Nguyễn Thái Bình, Quận 1, TP. Hồ Chí Minh.
Phone number:  0936-168-599.
Website: https://minhle.ca/
Le Immigration Group is pleased to accompany you on the path to realizing your dream of living with your whole family in Canada.