Immigrate to Canada 2022: Five Easiest Ways with high success
Admin
Canada's immigration is considered the world's most active policy with more than 80 immigration programs in different categories, tailored to the needs and abilities of each candidate. So what are the most popular and successful ways today? Let's also find out Le Immigration in the article below!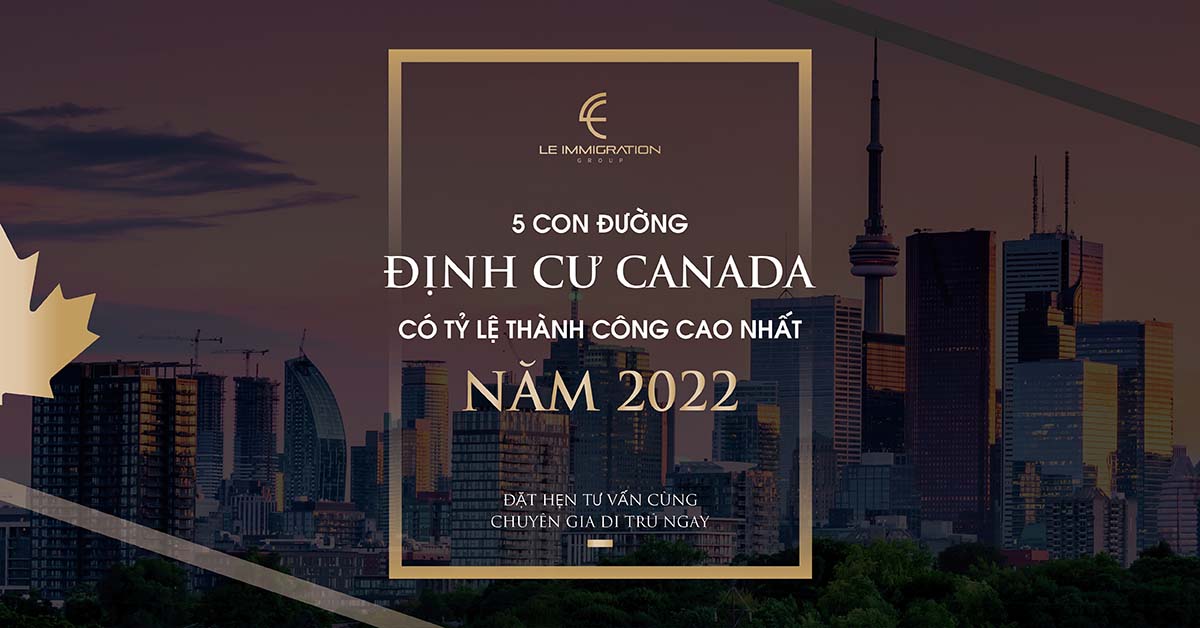 There are currently 5 main ways to immigrate to Canada, these immigration programs help candidates achieve Permanent Residents and can get Citizenship after 3-5 years of living and working in Canada. Which are:
Express Entry

– Federal Skilled Worker Stream

Start-up Visa

– Immigrate to the Federal Entrepreneur stream

Provincial Nominee

– Provincial Immigration for Entrepreneurs and Skilled Workers

Studying in Canada

– Immigrating through the Canadian study path

Family Sponsorship

– Settlement in the family reunification category
Below is the basic information of the 5 most popular Canadian immigration ways listed above:
Express Entry – Federal Skilled Worker Immigration
Currently, the easiest way to immigrate to Canada under the federal skilled worker program is through the Express Entry. This is an immigration scoring system for skilled workers, used to manage applications for permanent residence in Canada.
Potential candidates who meet the basic immigration conditions in terms of skills, working experience, qualifications and language ability will be admitted to the Express Entry pool and ranked based on the Comprehensive Ranking System score (CRS).
The Express Entry system consists of three main programs:
The Federal Skilled Worker Program (FSWP) 

The Federal Skilled Trades Program (FSTP)

The Canadian Experience Class (CEC): Workers with Canadian work experience
However, this program is highly competitive as it attracts skilled workers from all over the world. To surpass other candidates, you must be superior in terms of age, work experience, foreign language ability, adaptability and prior job arrangement in Canada. Applicants who have experience studying and working in Canada will have a greater advantage when participating in this program.
In addition to the Federal Express Entry program, the Provinces also create programs at  Provincial level that are linked to the Express Entry. These programs will be mentioned in detail in the next section of the article.
Start-up Visa – Immigrate to Canada under Federal Entrepreneurial Start-up
Start-up Visa is the only Federal program with a high success rate and permanent residency for the whole family with flexible conditions, and fast processing time.
Canada immigration program –  Start up Visa  was built with the purpose of attracting foreign entrepreneurs with skills and potential to build businesses, thereby creating jobs for people as well as contributing to economic development in Canada.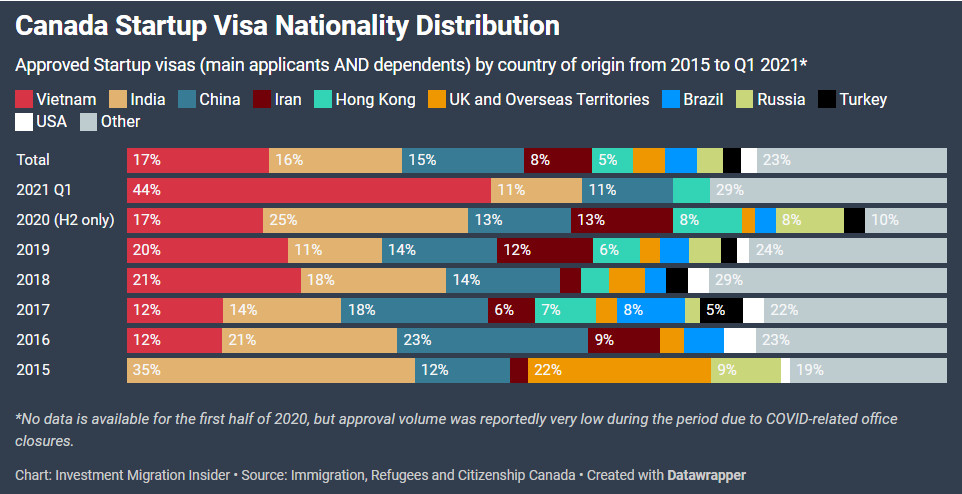 Statistics from Immigration Canada show that Vietnam topped the list of Start-up Visa processing within 4 years from 2018 to 2021.
Advantages of the program
Settle in with all family members (spouse and children under 22 years old);

Directly granting Canadian permanent residence (PR) to the applicant and the whole family;

Fast application review time (12-18 months);

One Business – Multiple Participants (Maximum 5 applicants);

Live and start a business anywhere in Canada;

No need to prove assets and finances in Vietnam;

Allowed to work in Canada before PR approval;

Enjoy all the same benefits as Canadian citizens.
Because of these advantages, the number of Vietnamese participating in this program is increasing, creating great competition. Therefore, participating candidates will often rely on the support of reputable Canadian immigration consulting companies. With experience and in-depth understanding of Canadian laws and policies, the lawyers of these companies will help you get more useful information, helping to increase the success rate of your application.
Provincial Nominee Program – Provincial Immigration for Entrepreneurs and Skilled Workers
The Provincial Nominee Program (PNP) is one of the key immigration programs of the Government of Canada. The PNP allows Canadian provinces and territories to nominate individuals who wish to immigrate to Canada and intend to settle in a particular province. These programs provide one of the most valuable pathways to Canadian permanent residence.
Each province and territory will enter into an agreement with Citizenship and Immigration Canada (CIC), allowing provinces and territories to have jurisdiction over their own immigration policies and programs, specifically:
Candidates will submit their immigration documents to the Province

Once approved, the Province will issue a Nomination Letter or a Support Letter.

The Federation will issue a Work Permit or direct permanent residency depending on the route of specific programs.
PNP includes 3 main categories:
Skills Immigration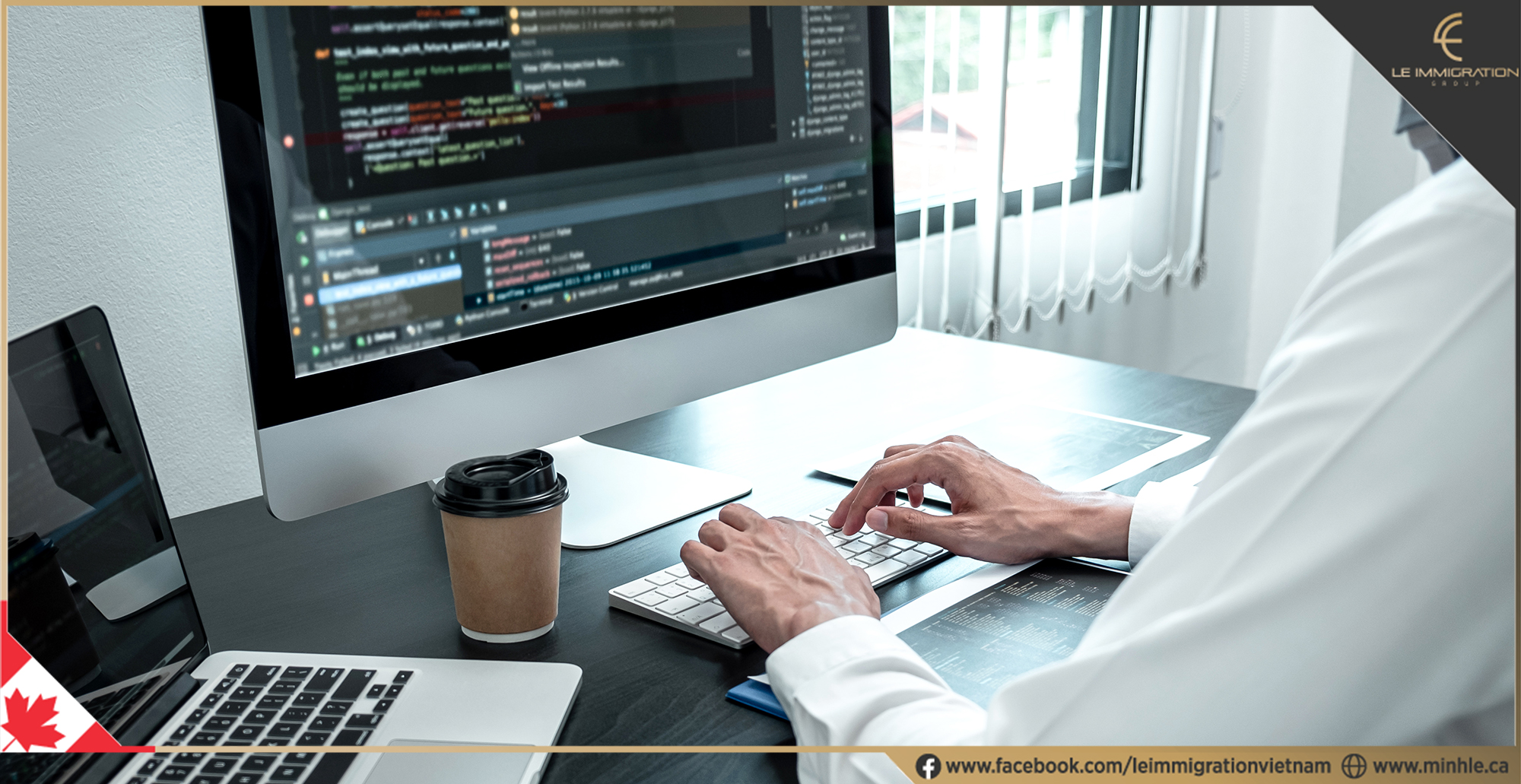 The province's skilled immigration is one of the most popular and successful immigration program today
Skilled workers have a wide range of options from the list of Provincial immigration programs tailored to each candidate's needs and abilities. Provincial skilled programs are divided into three main program groups:
Provincial Nominee Programs – PNP:

Ontario (OINP)

,

Saskatchewan (SINP)

, British Columbia (BCPNP), Alberta (ANIP), Manitoba (MPNP), New Brunswick (NBPNP), Newfoundland and Labrador (NLPNP), Nova Scotia (NSNP), Prince Edward Island (PEIPNP), Northwest Territories (NTNP), Yukon (YNP);

Agricultural and health pilot programs: RNIP (Rural and Northern Immigration Pilot) Program, AFP (Agri-Food Pilot) Program, Caregivers Program.
The common idea of these programs is that they require applicants to commit to living in the province for a minimum period of time. The commitment usually falls within 2 years (depending on the policy of each province). The immigration profession is also extremely diverse from the job group under NOC 0 (manager level, specialist) to NOC A, B, C (high-skilled, skilled worker in many fields).
Entrepreneur Immigration
Immigrating to Canada under the Provincial Entrepreneur is a program for business owners, major shareholders, etc., who want to invest in business and settle in a specific province in Canada.
Depending on the conditions of each province, investors will need to prepare different costs, scoring scale… In provinces with normal economic development, the requirement of investment will normally be lower. In contrast, in provinces and states with strong economic development, the level of investment will be higher, typically in areas with many social services and high population density. 
Candidates will submit a Letter of Interest to the Province. When meeting specific criteria, they will receive an Invitation to Apply (IOA), followed by steps to demonstrate financial capacity, as well as management experience, business plan development, investment commitment, interview, and a Work Permit Support Letter to submit to the Federal for Work Permit.
With this permit, the candidate and his family will be allowed to settle in the Province to carry out the business plan. After a specified time to implement a business plan in the Province and meet the commitment conditions, the candidate will apply for a Provincial Nomination Certificate to submit an application to the Federation for permanent resident (PR).
There are currently 4 popular Canadian immigration investment programs including: Ontario, Saskatchewan, Prince Edward Island (PEI) and New Brunswick.
Provincial Express Entry
As mentioned above, Provinces often align with the Federal Express Entry System to select candidates with qualifications and skills that match their province's occupational needs over a given period of time.
For this program, most candidates have applied under the Express Entry and are in the Federal Express Entry Pool. This means that the candidate has passed the necessary Express Entry requirements and meets the criteria required by the Provincial government. Depending on each Province, they can be grouped as follows:
Skilled Worker Category

Healthcare Professional Category

International Graduate Category and International Post-Graduate Category
Immigration to study abroad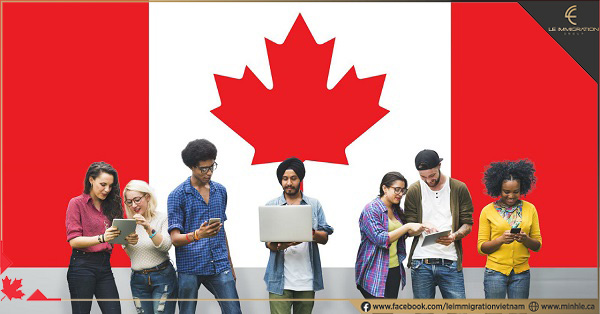 Canada is a country with the most open post-graduation settlement policy for international students
With an attractive settlement policy, a world-leading education, Canada is currently the first choice for international students to get an easy settlement opportunity.
After graduating from a college or university in Canada, international students will be able to stay for 1 to 3 years under the Post-Graduation Work Permit Program. After a 6-month working period, international students have the right to apply for permanent residence in this country through popular settlement pathways for international students, such as Express Entry, Atlantic Immigration Pilot Program (AIPP), ..
Family Reunification Immigration
Family reunification is the second largest immigration stream among all Canadian immigration streams today. You can sponsor a relative (grandparent, father, mother, child, spouse) to immigrate to Canada, as long as meeting the following conditions:
Be a Canadian citizen, permanent resident, or lawful permanent resident who is at least 18 years old.

Currently residing and continuing to settle in Canada during the sponsorship procedures.
Note: If there are eligible documents to prove that the sponsor will return to Canada with their relatives to settle down, he or she can sponsor the relatives while living abroad.
Above is the latest information about the main immigration programs in Canada. Should you need further assistance with related inquiries, please feel free to contact Le Immigration Group. We are always happy to advise and help you successfully set foot in Canada with the most optimal time and cost.
CONTACT INFORMATION
Address:
1275 Finch Avenue West, Suites 809 & 810, Toronto, Ontario, Canada M3J 0L5.

277-279 Ly Tu Trong, Ben Thanh Ward, District 1, HCMC. 

Hotline:

0937.168.599 

Email: info@minhle.ca