Social Insurance Number (SIN) in Canada: What you need to know!
Admin
Join with Le Immigration to learn about Social Insurance Number (SIN), one of the few important things you need to know when planning to immigrate to Canada.
---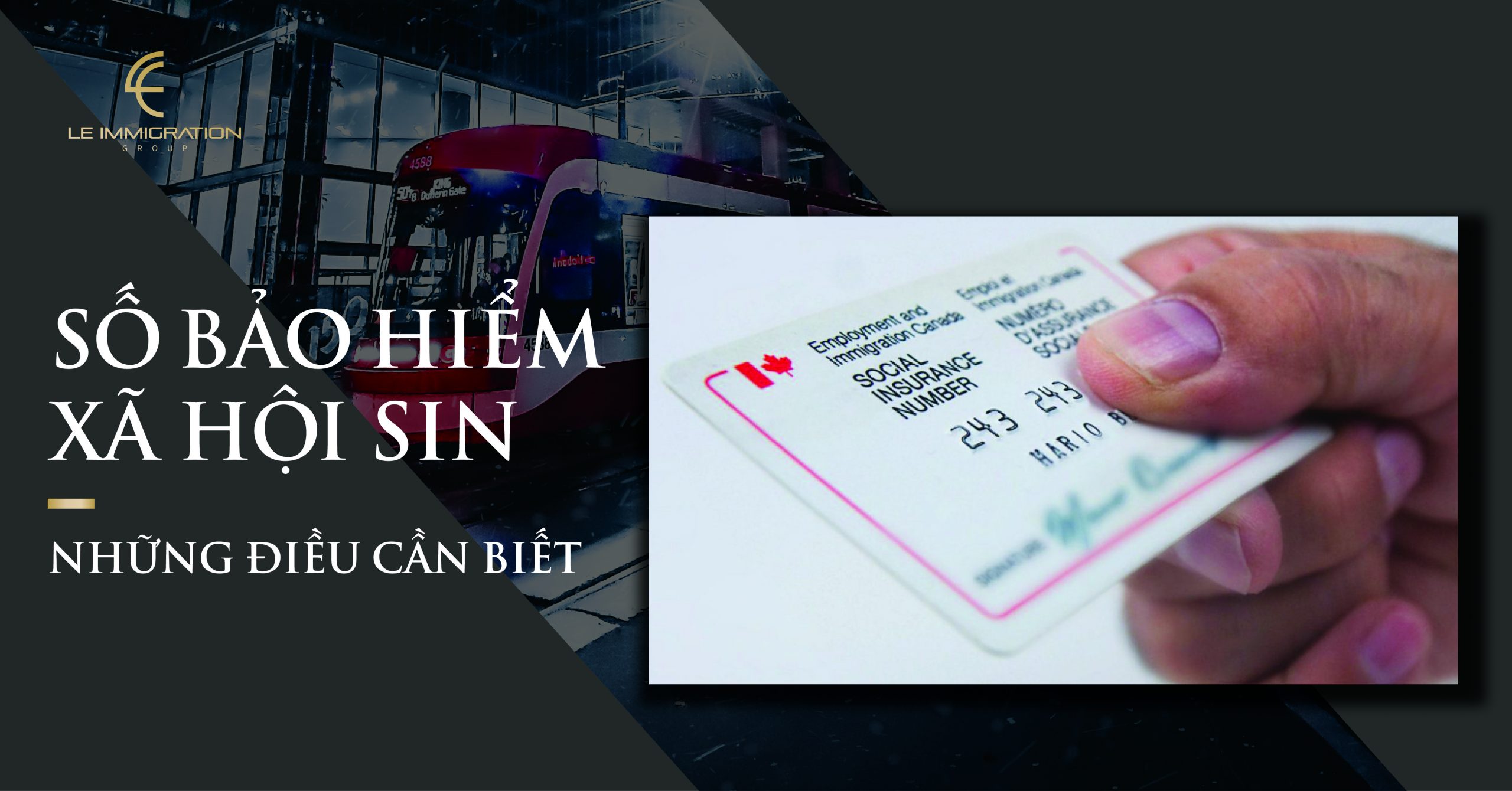 A Social Insurance Number (SIN) is a 9-digit number provided by the Service Canada Center from the federal government. Individuals need a SIN to work in Canada or to receive social benefits and services from Government programs.
The SIN will be issued to each person separately and uniquely. The government recommends storing any document containing your SIN number and personal information in a safe place. – Do not bring your SIN along with you.
Service Canada Center is currently issuing a certificate of SIN number. The previous plastic cards were discontinued but are still valid.
Who is eligible to apply for a SIN?
Canadian citizens, permanent residents, temporary residents (study abroad, work) need a SIN to work and participate in government support programs.

Children from 12 years old or older can apply for a SIN themselves.

Parents and individuals are legally authorized to apply for SIN numbers on behalf of children. For example, a parent can register a SIN for a newborn through the Newborn Registration Service.
What to prepare before applying for SIN?
To apply for a SIN number, you must prepare documents proving your identity and valid residence status in Canada. Documents must be original documents, copies are not accepted.
If you are applying for someone else, you may also need to provide additional documentation depending on who you are submitting on behalf of. You can visit the Government of Canada Website to find out how to apply when submitting your application.
You will have to provide the following documents:
Main documents
Permanent resident
If you have become a Permanent Resident status, you must provide one of the following documents issued by Canadian immigration authorities:
Permanent Resident Card (PR Card) issued by IRCC or CIC

Confirmation of Permanent Residence (CoPR),

Record of Landing if you arrived before June 28, 2002
You will also need to provide identity verification documents that show your name and date of birth and are issued by the federal or provincial government. For example: provincial driver's license or foreign passport or any government-issued identification.
Temporary Residence documents
Short-term residents must provide one of the following documents issued by Canadian immigration authorities:
Work Permit

A Study Permit stating that you are authorized to work in Canada

Travel and immigration records stating that you are authorized to work in Canada
Attach a number of identification documents such as foreign passport, driver's license issued by the provincial government, IDs issued by Canadian government…
Additional papers
Others are legal documents that state your first and last name is currently being used. This document is required if your official name is different from your current name.
In this case, you will need to provide one of the following:
Marriage certificate or a similar document to confirm your last name after marriage

Divorce decree or a similar document

A decision to legally change a name, or on a court order on changing the name issued by a province or territory.

Adoption order certified by a Canadian court (applies to adoptions in Canada only)
Depending on the specific situation, other types of additional documents may be used.
Proof of address
Documents to prove your current address. These documents must be provided by: Government, Business, bank, landlord, employer.
Registration Procedure of SIN
Submit in person
There is no fee to apply for a SIN and you can do it in person. Simply collect all required documents and submit them to your nearest Service Canada office.
If the documents and process are correct, you will receive your SIN as soon as you submit your application without leaving your documents.
Submit by post
You can submit your application by mail if you live more than 100 km from a Service Canada office, or due to certain restrictions that prevent you from visiting a Service Canada office.
If you need to submit your application by mail, follow these steps:
Call

1-800-206-7218

and select '

3

' to confirm if you are eligible to apply by mail.

Download the SIN application form, print and complete all information.

Send your completed SIN application and original documents to:

Service Canada

Social Insurance Registration Office

PO Box 7000

Bathurst, NB E2A 4T1
If you apply for a SIN number online or by mail and your application is approved, you will receive a letter with your SIN in the mail within 20 business days of receiving your application. If it's been more than 25 business days and you want to find out the application status, contact the admissions office.
Use and protect the SIN after being issued
Once your SIN is issued, Service Canada will store your personal information in the Social Insurance Registry.
When to use SIN numbers?
You will have to provide a SIN:
After being recruited

For personal income tax return purposes

When opening an account from which you earn interest at a financial institution such as a bank, or credit union

Access to government

programs and benefits

including: Canada Pension Plan (

CPP

), Unemployment Insurance benefits, Canadian Child Benefit, Child support, Loan programs for Canadian students, GST/HST, value-added tax refund.
Some businesses may require you to provide a SIN number. This is extremely restrictive, not advisable, but not illegal.
Examples of situations where you don't have to provide your SIN:
Prove your identity (except for some government programs)

Applying for a job

Procedures for renting property

Negotiate a rental agreement with the landlord

Sign up for a credit card

Carry out some banking transactions (mortgage, credit line, debt)

Car rental.

Subscribe to cell phone, Internet or TV service

Writing a will

Enroll in a university or college
If you are asked for SIN when not required by law?
If you are asked for a SIN when it is not required by law, you should ask the person/company requesting your SIN, how your SIN will be used and with whom it will be shared. Without a satisfactory answer, explain to them that the law does not require you to provide your SIN in this case.
If the company or organization refuses to provide a service or product until you provide your SIN, ask to speak to your manager/person in charge. Actually there are some companies or organizations that do not know the proper use of SIN number. Once they understand, they will definitely change the way they work. Speak up, if you want them to change! 
If you are not satisfied with the response, you have the right to file a complaint with the Office of the Privacy Commissioner of Canada.
The importance of protecting your SIN numbers
The government has always noted the importance of keeping the SIN number secure and protecting it from fraudulent use.
If your SIN falls into the wrong hands, your personal information may be leaked and your privacy may be compromised. Bad guys can use your SIN to get benefits and Government payments, tax refunds or bank credits. Your personal information may also be disclosed to unauthorized persons, leading to identity theft and other sophisticated forms of fraud.
In fact, your SIN numbers can be misused in loans that can adversely affect your credit rating, and make it difficult for you to get credit in the future.
Your SIN might be used illegally when the Canada Revenue Agency requires you to pay taxes on the income you did not receive.
Therefore, you should notify Service Canada if your SIN is lost or if you suspect that your SIN is being misused. You should not use your SIN as identification and should not carry it with you. Instead, keep the card safe at home. Never give out a SIN over the phone unless the cardholder is the one making the call and knows for sure who he is talking to. Finally, never reply to an email asking for personal information like a social insurance number.
Source: Compilation
Should you have any inquiries about Canada immigration documents and procedures, please do not hesitate to contact us at the following information:
The Immigration Group
Address:  277-279, Ly Tu Trong, Ben Thanh Ward, District 1, HCMC.
Phone number:  0937-168-599
Website: https://minhle.ca/
Le Immigration Group is pleased to accompany you on the path to realizing your dream of settling down with the whole family.