Sponsorship for Family Reunification in Canada: Difficult or Easy?
Admin
Canada immigration sponsorship is a form of sponsoring your relatives to study, work and live in Canada. This is the fastest and simplest form of immigration today, and is chosen by many people. So what are the specific types of Canadian immigration sponsorship? What are the terms and conditions? All information will be updated in detail in the article below by Le Immigration.
Canada's immigration sponsorship for family reunification – Easy or difficult?
Canada is one of the countries with the most generous family reunification program available today. The Canadian government always creates the best conditions for citizens and permanent residents to sponsor their family members. Therefore, Canadian immigration sponsorship for the whole family is classified as a priority, the processing time is also faster than other types of immigration applications.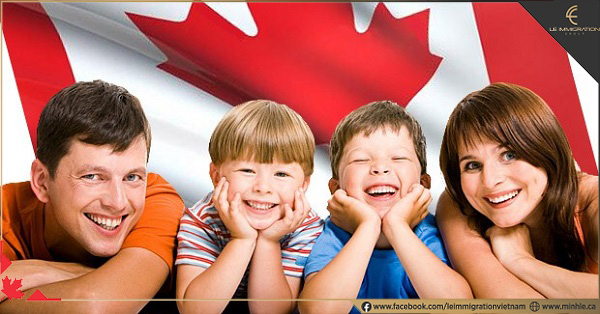 Is it easy or difficult to sponsor family reunification?
However, quick and simple does not mean easy. To be able to accept the application, the sponsor and the sponsored person must satisfy some basic conditions as follows:
General conditions of the sponsor
Person who is 18 years old.

Be a citizen or permanent resident of Canada.

Hold a Canadian passport for 5 – 10 years, valid or expired for no more than 1 year.

Currently residing in Canada and will continue to live in this country during the process of sponsoring.

Not subject to any sentence or criminal conviction.

Never been late for payment of any immigration loan.

Not in custody or in bankruptcy.
General conditions of the sponsored person
Is the sponsor's father, mother, grandfather, grandmother.

Person over 16 years old who is in a marriage relationship with the sponsor.

Spouse over 16 years old who has a close relationship with the sponsor for 1 year or more.

The sponsor's unmarried children are under 18 years of age.

Brothers, sisters, orphans, orphans under the age of 18, unmarried and not living with another person.
Types of sponsorship under the family reunification category
Family reunification immigration guarantees are divided into 4 forms as follows:
Couple sponsorship
This is the most popular form of immigration sponsorship today, allowing citizens or permanent residents in Canada to sponsor their spouses to live and work in the country of maple leaves. Conditions include:
Have been legally married and have been living together for at least one year from the date of application.

Both want to settle in Canada, meet the health conditions and meet the requirements of the local law.

The sponsor can not sponsor another person for a minimum of 5 years from the date the sponsored person becomes a permanent resident.

If you immigrate to Canada as a couple and do not have children in common within 24 months, you must undergo a relationship test for 2 years.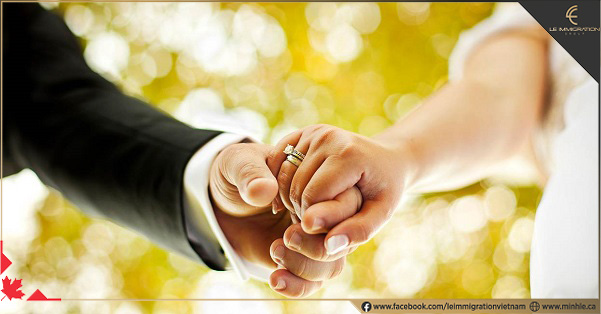 Forms of sponsorship for Canada under the spousal category
Sponsor grandpa, grandma, father, mother
Canada allows children to sponsor their grandparents, parents, and grandparents to settle down here. Specific conditions to be accepted include:
Minimum income requirements.
The sponsor commits to financially support the grandfather, grandmother, father and mother for at least 20 years. The financial assistance agreement form must be fully signed by the sponsor and relatives.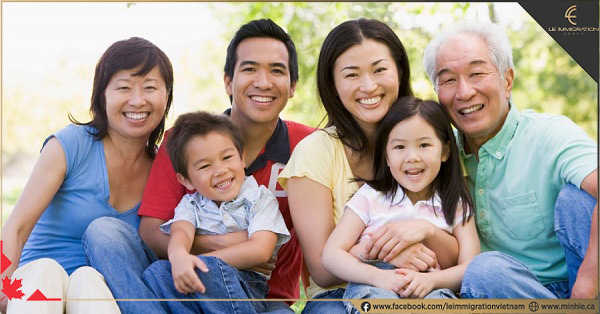 Sponsor your children
Parents who are living and working in Canada can sponsor their children to reunite if they meet the following conditions:
The sponsored person must be the biological or adopted child of a Canadian citizen or permanent resident.

The sponsored person does not have a spouse or any other legally binding relationship.

The sponsored person is under 19 years of age at the time of applying for the Visa, and is dependent on the sponsor for financial matters.

The sponsored person who is over 19 years old at the time of applying for a visa must submit a document to prove that they are still dependent on the guarantor for financial matters.
Spousal Sponsorship
Two people (including homosexual and heterosexual) living together for 12 consecutive months.

Both need to provide other evidence to prove their relationship is real.
Procedures and documents to sponsor for family reunification
When eligible to proceed with the Canadian immigration procedure under the sponsorship, both the sponsor and the sponsored person need to prepare the following necessary documents:
The Sponsor
Declaration stating the reason for sponsoring relatives to Canada.

Civil identity certificate

List of sponsored persons

Sponsor letter

Proof of financial capacity

Citizen card

Copy of passport

Photocopy of residence card
Tne Sponsored person
Passport

Visa application form according to the form of the Canadian Embassy.

Photo 4.5 x 4.5 (cm) according to the Visa application form.

Documents proving the relationship with the sponsor.

Financial documents.
After preparing the documents, both the sponsor and the sponsored person send the application to IRCC.
Procedures and documents to sponsor Canadian immigration
Above is all the information about Canadian immigration through family reunification that we want to share with you. To ensure your application success, you should look for reputable Canadian immigration consulting companies to save time in the preparation process.
Le Immigration Group is a leading company in Canadian immigration consulting. We are committed to bringing the safest, most sustainable and optimal immigration solutions for your family. Together with a team of immigration lawyers who are knowledgeable and experienced in Canadian Laws, we always accompany and support you in the best way during the application process. Do not hesitate to contact Le Immigration Group via our Hotline: 0937 168 599 for advice and support!