All about CICC: The Regulatory Council of Licensed Immigration Consultants in Canada
Admin
The College of Immigration and Citizenship Consultants (CICC), is an organization that trains and manages consultants in the field of Canadian immigration, approved by the Government of Canada. 
CICC Canada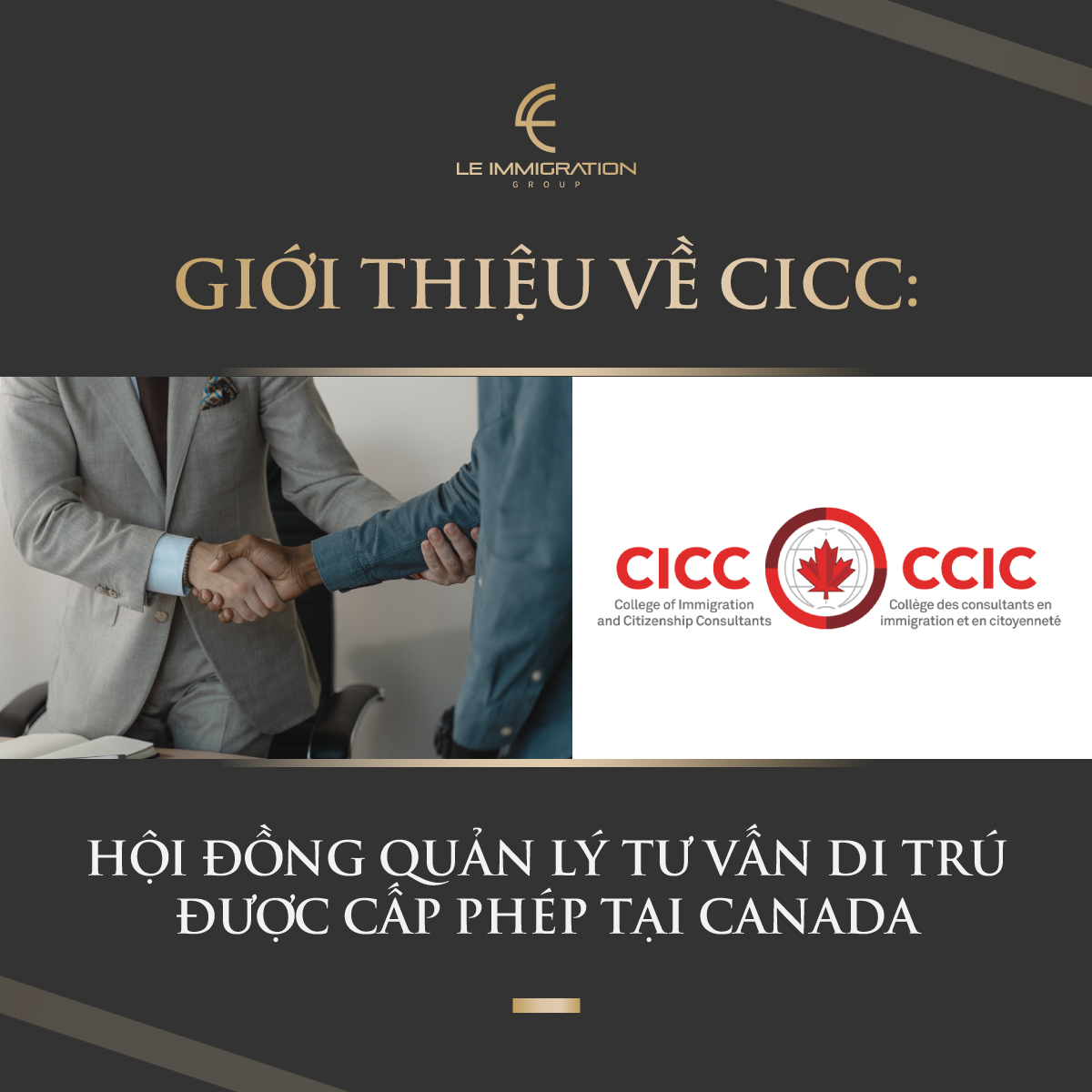 The College of Immigration and Citizenship Consultants  – CICC, is a professional, long-standing and trusted leading organization in supervising and managing members of Immigration consultants, to maximize the protection of clients when using Canada Immigration consulting services.
History
The College of Immigration and Citizenship Consultants (CICC) has its predecessor as The Immigration Consultants of Canada Regulatory Council (ICCRC), officially established on June 30, 2011 under the Immigration and Refugee Protection Act and the Citizenship Act.
The designation for the ICCRC since 2011 promptly responds to the fact that there is a need for more legal immigration consultants who, being domestic lawyers, can act as a bridge between the Government and Candidates in applying for and considering immigration. Since then, Canada and Canadian immigration applicants around the world have had more legal immigration consultants.
In 2019, the Council worked with Immigration, Refugees and Citizenship Canada (IRCC), related partners, and gained the lawful right to provide:
Provide the rights and necessary tools for monitoring, enforcing and investigating immigration consulting practices in Canada, and

Have more rights to supervise unauthorized practitioners, and hold them accountable for their actions.
CICC officially replaced ICCRC since 11/23/2021
On November 23, 2021, Mr. Sean Fraser – Minister of Immigration, Refugees and Citizenship, announced the official licensing of The College of Immigration and Citizenship Consultants (CICC) to replace the The Immigration Consultants of Canada Regulatory Council (ICCRC).
The CICC is now the official governing body of immigration and citizenship consultants across the country. All paid consultants must be licensed, to work with Immigration, Refugees and Citizenship Canada (IRCC).
Link to Government Website: Announcing the Alternative to Licensing for the Canadian Immigration Consultants Association CICC
Functions of CICC
With the name change and being licensed by the Ministry of Immigration, CICC will be responsible for licensing and managing the Regulated Canadian Immigration Consultants (RCICs). RCIC professionals will be competent to work directly with Immigration, Refugees and Citizenship Canada IRCC.
The CICC is an important part of the government's efforts to combat fraud in Canada's immigration system. The Council also makes a mandatory commitment to strengthen oversight, maintain the integrity of Canada's immigration system, and protect all people who wish to live in this country.
The CICC has new powers and methods to investigate bad practices and to discipline consultants. Councils can also protect the community from unlicensed consultants by:
Enter the consultant's premises to collect information for investigations

Forcing witnesses to appear and testify before the Disciplinary Committee

Request a court order to deal with unlicensed entities provided immigration or citizenship advice without authorization.
Government-sponsored CICC with a $50 million investment over the past few years to fight fraud and new educational tools to help applicants identify fraudulent activity.
RCIC – Lawful Immigration Consultant under the supervision of CICC

Who can become a lawful Canadian immigration consultant?
Currently, Canadian law allows 3 cases to become Legal Immigration Consultants, including:
Member of Regulated Canadian Immigration Consultant RCIC

Member of the Canadian Bar Association, or

Member of the Chamber of Notaries of Quebec.
In other words, if someone is not yet a Lawyer, they must obtain a CICC license to act as an RCIC immigration consultant in Canada.
RCIC as a lawful immigration consultant
Regulated Canadian Immigration Consultants (RCICs) are one of two legal immigration consultants authorized by Canadian Law. Reality shows that the RCIC Professionals are superior to other practitioners thanks to their legal status, professional knowledge, practices, and ethics standards. While Canadian attorneys can advise on many aspects of the law, RCIC Specialists focus exclusively on immigration law.
The scope of practice includes providing immigration consulting services to Canada for a fee, in any form, to all clients/candidates globally who want to immigrate & have consulting needs.
Standard of RCIC
To become an RCIC, an individual must be granted the same training and license by the College of Immigration and Citizenship Consultants (CICC) as other professional occupations.
CICC sets higher standards than its predecessor ICCRC, specifically:
Participating in the "

New competency-based graduate diploma program

" will be the only way to become an RCIC.

Individuals who wish to become RCIC must have a bachelor's degree to be eligible for the above program.

Current RCICs are obligated to complete professional development requirements and annual competency assessments.

The RCIC operates as Immigration Consultants in accordance with the CICC Immigration Advisory Council Act.
Origin of RCIC
Most RCIC Professionals come from many different countries and came to Canada to settle many years ago, and after becoming RCIC they will assist fellow countrymen or immigrants with Canada Immigration related services.
They are people who are knowledgeable and engaged with the local culture (theirs, client's), understanding the local culture, as well as understanding the differences between their culture and Canadian's. It is an incomparable advantage of RCIC people to be able to help the client's case in the best way.
With pre-existing immigration backgrounds, (most) RCICs have the ability to access international markets more easily than their domestic Canadian colleagues. This capacity is of decisive importance in finding, approaching and taking care of clients.
CICC currently manages approximately 3,600 legal Canadian Immigration Consultants in Canada and abroad.
Rights and obligations of RCIC
Client/Candidate Support – The core responsibility is to assist clients in completing the settlement application with the highest probability of success, based on the information & documents provided, and to ensure truthfulness, accuracy and completeness of information.
Maintain competence and status – At the same time, Immigration Consultants always need to fulfilll the professional responsibilities of professionals. Similar to all other professions in Canada, RCIC professionals need to be properly trained and pass a test from the start in order to be licensed to practice. After that, they also need to continuously learn skills to update their knowledge, ensuring that professional knowledge is always useful. Besides, professional ethics are always required of RCIC experts.
Compliance with the law – Finally, RCIC professionals also need to fulfilll their duty to comply with the Canadian law. Especially when practicing in legal advice (immigration law specifically), the legal compliance must be even stricter. This is to ensure the client's lasting success.
What can an Immigration Consultant not do?
Do not accept dishonest information – RCIC experts need to always follow this rule, as also asking their clients, employees, and partners to follow the same principles of honesty, accuracy and completeness when communicating, processing and completing immigration information. The RCICs are legal immigration consultants, so they will not side with dishonest behavior in making immigration documents.
Do not violate the law, do not guarantee visa results – The law clearly stipulates that "the final decision on immigration visa applications is the government's, prohibiting acts of ensuring a successful visa application result in any form", so no Consultant is entitled to guarantee a successful visa result. The RCIC expert is also a legal consultant, so this regulation must be followed at all times.
The act of "guaranteeing visa results" might be in many direct and indirect forms, including (without limitation) charging fees only on/after a successful visa result, or/and promising to refund fees upon successful failed visa results.
Do not deceive Customers – Having strict management of the law prevents RCIC Immigration Consultants from violating the law. Working with an RCIC Professional, who is a Legal Counsel, for your immigration planning will help you eliminate those concerns from the very beginning.
Why clients should work with CICC licensed Migration experts

Finding and working with a legal Canadian immigration consultant – a CICC certified expert – is one of the important factors contributing to the success of the application submitted to the Department of Immigration, to apply for a visa.
The Government of Canada recommends: Individuals who are planning to immigrate to Canada to study, work, travel or settle permanently, should clearly understand the role of the RCIC. Hiring an RCIC professional to prepare a Canadian immigration application ensures that the application is processed by an expert with extensive knowledge of immigration, and protects you from being victim to fraudulent practices.
Therefore, when researching immigration consulting firms, the first thing to do is to request the CICC registration code from the immigration experts of that company. You can look up this number directly on the CICC website as it is required by Canadian law to always display it on Government channels, and in the public media of licensed consulting services.
Source: Compilation
https://www.canada.ca/…/new-college-of-immigration-and…

The College:

https://college-ic.ca/

Canada Dreams CDICS
Should you have any inquiries about Canada immigration documents and procedures, please do not hesitate to contact us at the following information:
The Immigration Group
Address:  277-279, Ly Tu Trong, Ben Thanh Ward, District 1, HCMC.
Phone number:  0937-168-599.
Website: https://minhle.ca/
Le Immigration Group is pleased to accompany you on the journey to realize your dream of settling down with the whole family in Canada.