What are the great benefits a Canadian education brings to our children?
Admin
An excellent education system is one of the reasons Canada attracts so many immigrants every year. Here, students are free to advance their strengths, learn according to their interests and needs instead of forcing them all into an existing model. That's how education turns schools into a place of motivation and joy for students.
---
Canada has long been known for the quality of its education system and schools. Canada's education system is built and developed with taxpayers' money, so the most important feature of public schools is to provide free education to Canadian residents. Most Canadians would agree that their tax dollars are properly used and paid for by the country's robust education system.

How good is the Canadian Education System?
According to a 2020 survey, Canada is rated as having the third best education system globally. An in-depth analysis conducted by Statistics Canada found that Canadians spend 6% of their Gross Domestic Product (GDP) on education, which is higher than the average spending of countries participating in the Organization for Cooperation and Development. Economic Development (OECD).
Of course, Canada will be rewarded with a huge education budget. 91% of adults aged 25-64 have at least a high school diploma, and 68% receive a postsecondary education certificate. This number is much higher than the OECD average, and demonstrates the importance of education in Canadian society.
This is not to say that Canada has a perfect education. Some schools have large class sizes but very low teacher/student ratios, or there are schools that do not offer many extracurricular programs and mandatory physical activities. Some schools offer fewer course and program options than many others. For these reasons, it is important to do thorough research before deciding to send your child to a school in Canada.
Overview of the Education System in Canada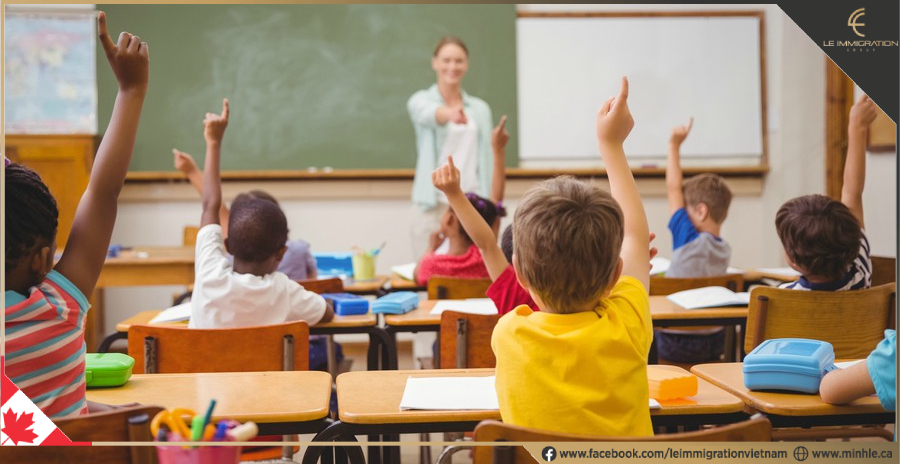 The Canadian education system is overseen by the federal government, but management and operation is a province/territory responsibility, which means that the system in Ontario will be different from that in British Columbia and elsewhere. Even within a province, education can vary considerably between schools and there is no uniform system of education regulations.
However, in general, the Canadian education system is quite similar to its neighbor in the United States and is divided into 3 stages: preschool or pre-kindergarten education, primary and secondary education (also known as K). -12), and post-secondary education.
Public schools in Canada are mostly mixed schools consisting of both boys and girls. However, there are some private schools in Canada that only offer classes for boys or girls. The school will provide students with all the necessary textbooks. Students are only required to purchase school supplies such as pencils and notebooks to prepare for the school year.
Bullying is strictly prohibited in Canadian schools. There are school bullying prevention programs in place in many schools across the country to ensure equity and protect children.
The Canadian education system is divided into public and private schools. Regardless of type, schools must register and meet the requirements in accordance with Provincial and Federal regulations. It's important to weigh the right fit based on a comprehensive analysis of your child's academic abilities, your family's financial resources, and your expectations for your child.
The education system will include the following levels of training:
Preschool or pre-kindergarten
Target audience: Children ages 3-5
Early childhood education is often less structured than the compulsory primary or secondary stages. So there will be different options for preschool types, curriculum, schedules, costs, and more. Early childhood education will generally be free in many provinces. In some provinces, especially private institutions, parents may have to pay for their children's education.
Two popular types of child care in Canada are preschools and daycares (Daycares). Many parents in Canada also encourage their children's early childhood development in less formal educational settings, such as through activities at home or through playgroup groups in their neighborhood.
Primary School (Primary School or Elementary School)
Who: Children 6 years old (Grade 1) to 12 years old (Grade 6) or 14 years old (Grade 8)
In primary schools in Canada, it is difficult to see a row of tables and chairs arranged neatly like in Vietnam, but instead there are cushions scattered next to the chairs and some lovely small wooden tables. There are 3-5 seats available. The classroom will not have a dedicated teacher's podium, but the teacher will sit in the middle of the class and be surrounded with children. Two teachers will be in charge of managing the 22 students and are responsible for all courses for the children, including English, Mathematics, Astronomy, outdoor classes, and other subjects.
Outside of classroom hours, there are many extracurricular activities, mainly focusing on exploiting children's interests in the early stages of development. Many field trips are organized during the year and the places to visit are diverse, focusing on learning about nature and life in the land where the children live.
Secondary School (Secondary School)
Target audience: children from 14.15 years old (Grade 9) to 17.18 years old (Grade 12), and can extend to grade 13 (Ontario)
At the high school, students can choose from a program that combines culture and English. Teachers must have at least a bachelor's degree and a year of pedagogical internship training, many of whom have studied to get a master's degree so they can teach.
Depending on the province, the start and end times of the school year varies. Most schools will run from September to June, and the weekdays are Monday to Friday.
If you think about international students alone, most schools do not require an English degree, as long as you have a good academic score. When entering the school, international students will undergo a foreign language test to determine if they need to learn more foreign languages ​​in addition to cultural subjects, as well as for level classification and placement.
Post-Secondary Education
College:
Includes 3 types:
University College

Community College

Technical Institute/Career College
Colleges in the Canadian education system are more practical than universities, providing vocational training according to the needs of society and the labor market. Training time usually ranges from 1-3 years, less time than it is at universities.
University:
Canada is a country that has many top ranked universities in the world. Here, students will have access to the most diverse and advanced disciplines including gene technology, nanotechnology, software design, game programming, application programming, and other fields. Postgraduate levels such as master's, master's and doctoral degrees are similar to the education system in Vietnam.
The school year typically starts in September, but this is not the only admission period. Year-round, schools usually have up to three admission periods, in January, May and September respectively. Most do not hold entrance exams but instead consider admission through records.
Expand: Language Schools (Language Schools)
Canada is one of the few bilingual English-French countries and both are recognized as official languages of the country. Therefore, there will be schools/programs that teach English (ESL) or French (FSL). Students can access this program right from high school.
Some Highlights of the Canadian Education System

Encourage students to "self-advocate"
The education system in Canada tends to encourage self-study. In the classroom, teachers are responsible for supporting the basic content of teaching and creating a free learning environment for students to freely exchange and research.
This is most evident in kindergartens and elementary schools in Canada, where students are trained to be independent, including eating their own meals, cleaning up their own toys after playing, and so on.
Learning environments are not subject to pressure.
Saying no to the idea that "Scores determine qualifications," Canada is giving high priority to the ability to think, grow, discover and create new things. This means that the scholarship standard is not only for students with excellent academic achievements, but also adds elements of social activities, contributions to the community, research work, etc.
There is no specific textbook or curriculum.
Canadian education does not have a specific system of textbooks or curricula. Instead, students will be guided to follow the curriculum prepared by the teachers and lecturers themselves. However, the lesson plans prepared by teachers and lecturers still adhere to the content being taught as set out by the school and the provincial government.
Support skill development with soft skills.
In addition to classroom knowledge and practical work experience, students are also supported to develop skills for free that are supplemented with skills such as writing, presenting, teaching, applying for jobs, taking notes, taking the test, and carefully adjusting your emotions.
Canadian education centers also help students connect with employers and find jobs after graduation.
Parallel combinations of theory and practice
In parallel with theoretical lectures in the classroom, students can participate in extracurricular activities and paid internship programs organized by the school in association with companies and businesses in Canada. These programs aim to enhance student survival skills and practical work experience.