Latest update on Canada's Immigration Plan 2022-2024
Admin
Canada unveils Immigration Plan 2022-2024 with "unprecedented" record numbers, increasing its original target plan from 411,000 to 432,000 immigrants by 2022.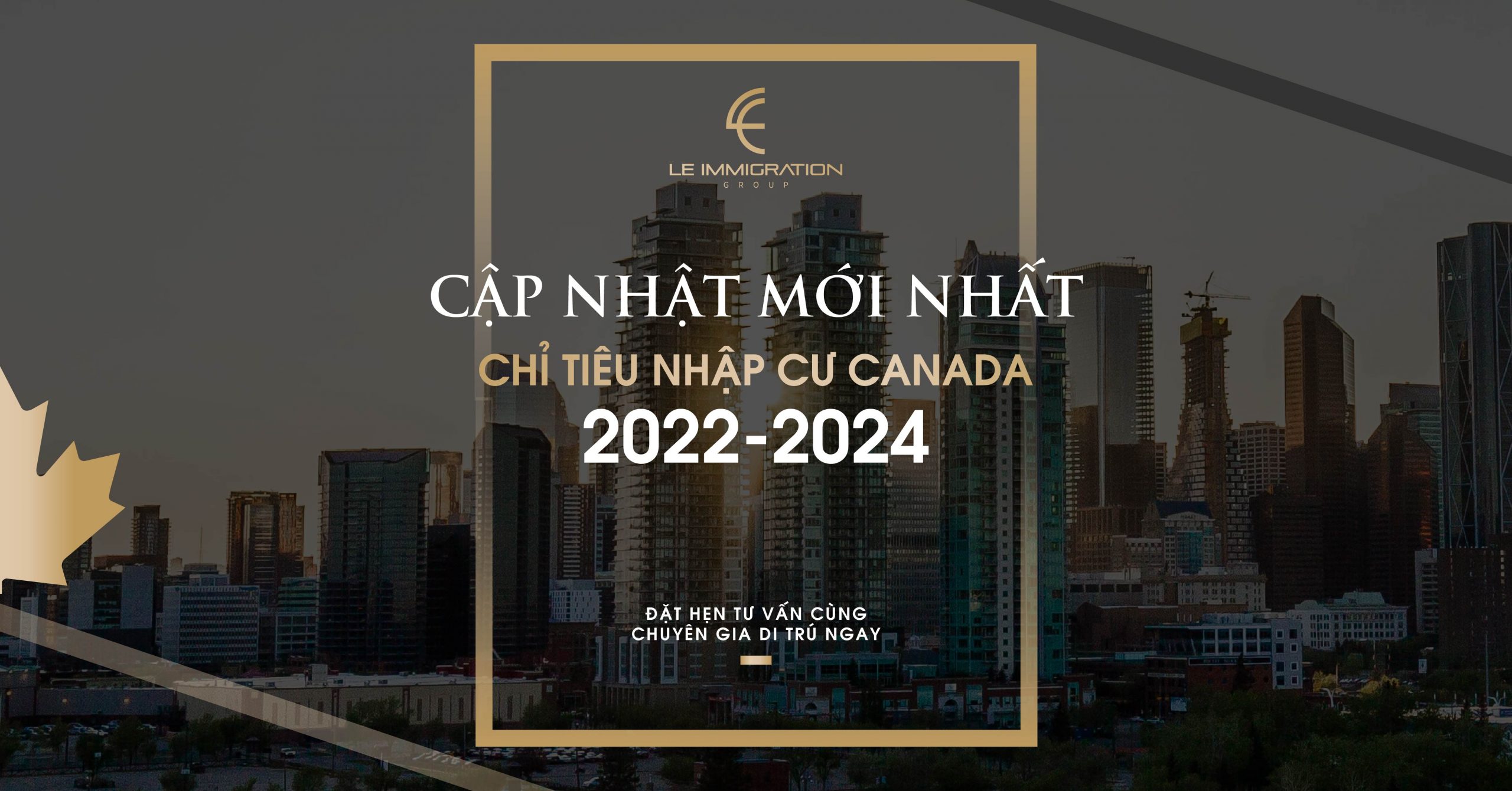 On February 14, 2022, the Minister of Immigration announced the 2022-2023 Immigrant Admissions Plan. Once again, Canada is aiming for the highest immigration number in the country's history.
The plan focuses on attracting skilled immigrants who make a major contribution to Canada's economic, workforce, and demographic challenges. It also recognizes the importance of family reunification and helping the world's most vulnerable groups of immigrants through refugee resettlement.
Over the next three years, Canada will aim to attract the following number of new immigrants:
2022: 431,645 Permanent residents
2023: 447,055 Permanent resident
2024: 451,000 Permanent residents
Highlights of the 2022-2024 Immigration Plan:
The total number of immigrants expected to attract is 1.14% of Canada's population by 2024.

Economic immigration programs hold the largest proportion, accounting for nearly 60%.

Deal with the global migration crisis by providing a safe haven through the Humanitarian immigration program to those facing persecution.

Recognize the importance of family reunification and keep the processing standard of 12 months for spouses and children.
Key immigration classifications: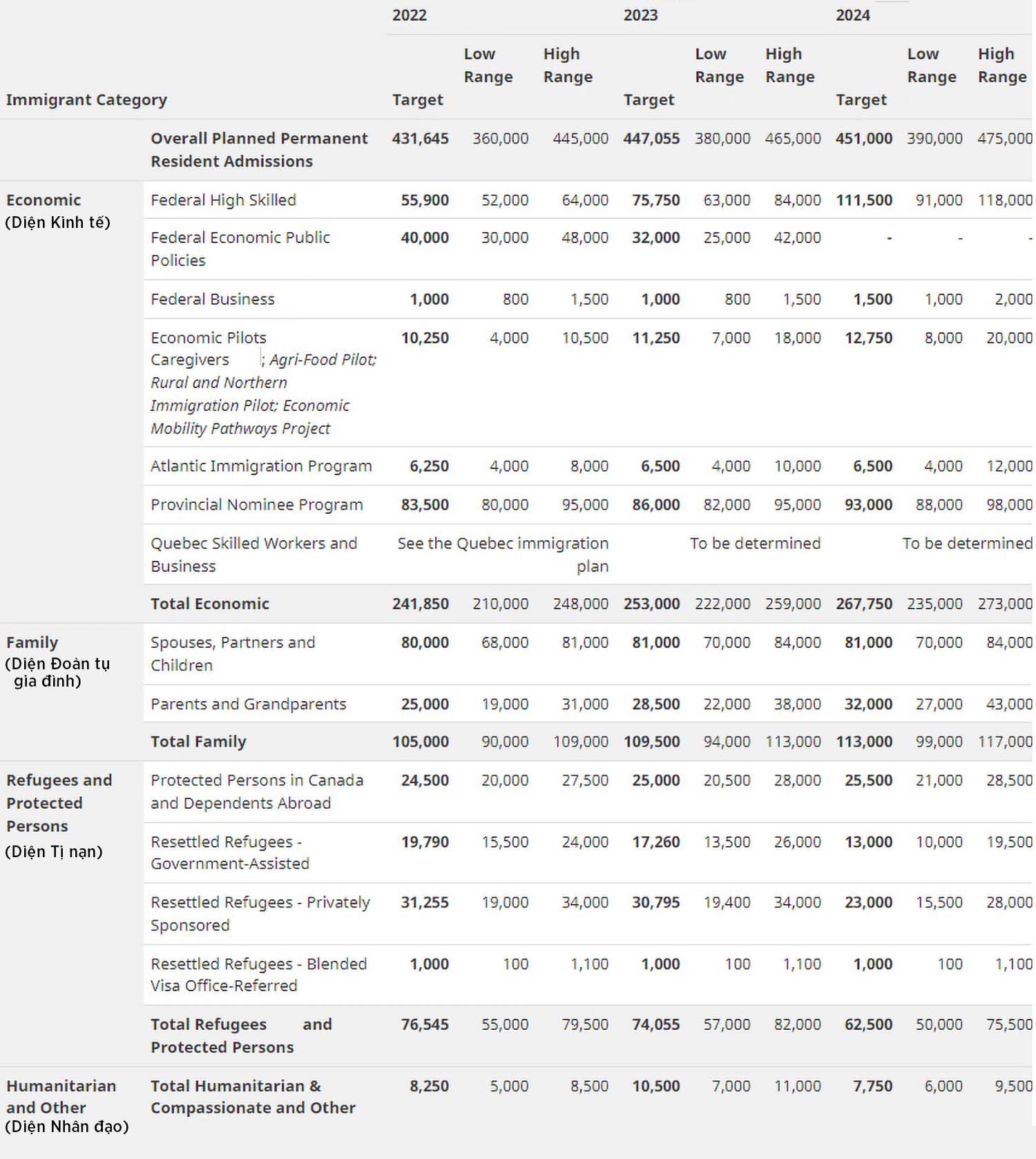 Immigration Plan of 2022-2024 on the website of Immigration Canada.
List of economic classes in Immigration programs (accounting for 59%)
Target: 241,850 Permanent residents by 2022
As mentioned above, the Immigration Plan for 2022 will focus on the Economic Classes. In particular, the Provincial Nominee Program (PNP) group will replace Express Entry as the main immigration category in 2022.
Provincial Nominee Program (PNP) – 83,000 Permanent Residents
Provincial Nominee Programs (PNP) for Skilled Workers and Entrepreneurs investing in the following provinces: Ontario (OINP) , Saskatchewan (SINP) , British Columbia (BCPNP), Alberta (ANIP), Manitoba (MPNP), New Brunswick (NBPNP), Newfoundland and Labrador (NLPNP), Nova Scotia (NSNP), Prince Edward Island (PEI PNP) Northwest Territories (NTNP), Yukon (YNP).
Group of Provincial Affiliate Programs, Pilot Program – 16,500 Permanent Resident
Atlantic Immigration Program 4 – AIP:

Skilled Worker Program;

Agricultural and health pilot programs: RNIP (Rural and Northern Immigration Pilot) Program, AFP (Agri-Food Pilot) Program, Caregivers Program.
Federal Skilled Worker Class – 95,900 Permanent Residents
Express Entry

for skilled immigrants (Skilled-Workers) living inside and outside of Canada, including 3 sub-programs: Federal Skilled Worker Program; Federal Skilled Trades Program; Canadian Experience Class.

Federal Economic Public Policies (TR to PR – Temporary resident to permanent resident pathway): A policy to help convert temporary workers and international students in Canada to gain Permanent Resident status.
Federal Entrepreneurs Class – 1000 Permanent Residents
Start-up Visa Entrepreneur Program: Program for candidates who wish to open a business in Canada.
List of immigration programs in the Family Reunification program (accounting for 24%)
Target: 105,000 Permanent Residents by 2022
Spouses, Partners and Children Program – 80,000 Permanent Residents

Parents and Grandparents Program (PGP) – 25,000 Permanent Residents
List of refugee and humanitarian settlement programs (accounting for 20%)
Target: 84,795 Permanent residents by 2022            
Asylum – 76,545 Permanent Resident

Humanitarian – 8,250 Permanent Residents
Detailed immigration criteria on the website of Immigration Canada, see

here
Why does Canada need such a large number of immigrants?
Here are 3 main reasons:
Offsetting the negative economic and financial impacts of aging populations and low birth rates. (18% of Canada's population is 65 years of age or older; 9 million will reach retirement age by 2030. Birth rate is about 1.6 children per couple, while the stable number is 2.1.)

The number of immigrants has dropped significantly and the immigrant visa processing has been affected by Canada's entry restriction order from March 2020, in response to the outbreak of the Covid-19 pandemic.

Address the challenge of economic recovery and support future government spending. Canada is facing a National budget deficit due to increased spending amid the pandemic and weaker economic activity. In addition, employers across Canada are also dealing with the labor shortage burden because of changes to the economy during COVID and fewer immigrants coming from abroad.
Immigrants play an important role in dealing with work forces, while helping to promote business and creating jobs for Canadian citizens.
Canada's history of welcoming immigrants from 2015 to present
Until 2015, Canada welcomed about 250,000 immigrants each year. In 2016, the country announced a target of 300,000 newcomers annually. Before the pandemic, the target was set at around 340,000 immigrants per year but the number fell below 200,000 by 2020.
The Government of Canada then made a surprise announcement in October 2020 that it would welcome more than 400,000 immigrants annually in the near-term to help support the post-COVID economic recovery. This is the highest goal in Canadian history.
Last year, Canada broke its new record by bringing in 405,000 new permanent residents, mainly by granting people who are living inside the country the permanent residence. Before the pandemic, most new immigrants came to Canada from abroad.
In 2021:
62% of new immigrants arrive through economic pathways such as Express Entry, the Provincial Nominee Program (PNP) and Quebec programs.

About 20% were welcomed last year under family sponsorship through the Spouses, Partners and Children Program and the Parents and Grandparents (PGP) Program.

15% of immigrants have been welcomed in 2021 under refugee and humanitarian programs.

The remainder is classified under other immigration categories.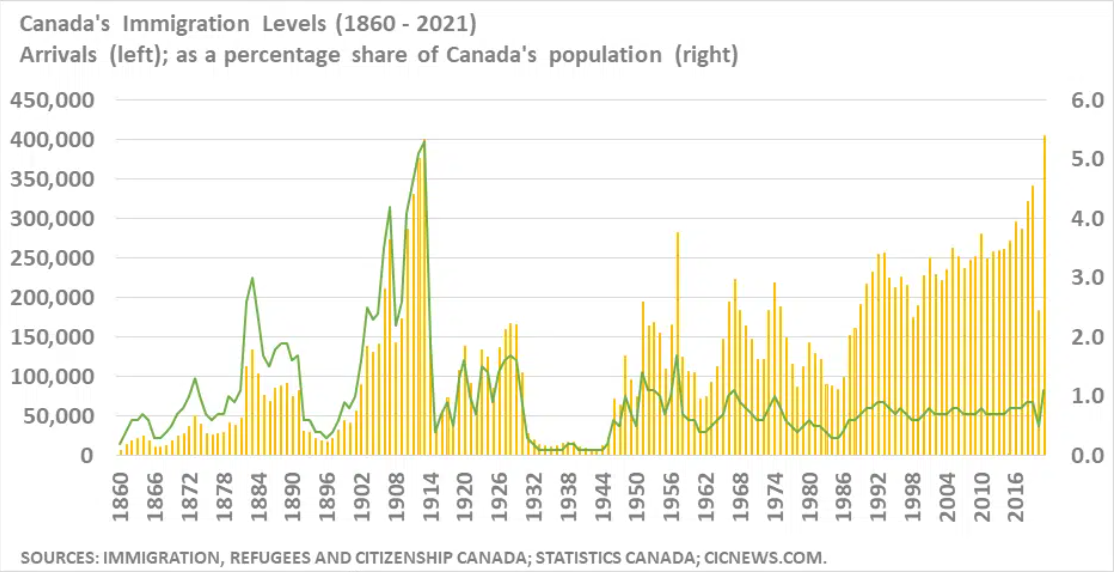 Chart of Canadian immigration history from 1860 to 2016.
Immigration Orientation Period 2022-2024
We cannot predict with certainty the future of Canada's immigration plan for the period 2022-2024. But can be sure this is the "golden" time to plan to invest in Canada. Here are some orientations for Vietnamese people who are interested in "conquering" a Canadian green card in the near future:
For international students and workers in Canada: Express Entry is the best route for candidates who have had work or study experience in Canada for a certain period of time. In addition, the "Public Policy TR to PR" is also a quick and easy path in 2022 when in 2021, this program has helped nearly 90,000 international students and workers in Canada obtain permanent resident cards. .

For foreign skilled workers: Provincial nomination is an effective way, helping candidates immigrate to Canada with available skills and working experience, receive a work permit (Work Permit) and then receive a visa. permanent resident (PR). Candidates can consider settling in Provinces such as Ontario – OINP, Saskatchewan – SINP, New Brunswick – AIP.

For Entrepreneurs and families with a stable finance capacity, who want to get PR directly and quickly: Start-up Visa is a potential program and has the highest visa success rate up to now. 
Source: CIC News/ General
Should you have any inquiries about Canada immigration documents and procedures, please do not hesitate to contact Le Immigration today:
The Immigration Group
Address:

  277-279, Ly Tu Trong, Ben Thanh Ward, District 1, HCMC.

Phone number:

  0937-168-599.

Website:

https://minhle.ca/
Le Immigration Group is pleased to accompany you on the path to realizing your dream of living with the whole family in Canada.