Can a child born in Canada become a Canadian citizen?
Admin
Are you confused whether giving birth in Canada can be naturalized or not? How much does it cost to give birth in Canada? All issues you need to know when giving birth in this country will be answered in detail by Le Immigration Group, in the article below. Check it out now!
Having a baby in Canada: Can your baby have automatic citizenship?
Under the provisions of the Canadian Citizenship Act, enacted in 1977, the Government of Canada will grant citizenship to children born in Canada, even if the child's parents are not citizens of Canada.
In addition, paragraph 3 of the Act also explains, the term "Canada" includes not only the land area of ​​Canada, but also the airspace and waters under the sovereignty of this country. As a result, Immigration, Refugees and Citizenship Canada (IRCC) considers all children born in its national territory to be Canadian citizens.
In addition, the interpretation of the Citizenship Act also states that any child born on a Canadian-registered aircraft or vessel shall be considered to have been born in Canada.
However, if you are not a Canadian citizen or have not yet applied for permanent residency, after giving birth, you still have to bring your baby back home. By the age of 18, the child can come to Canada to live, study and enjoy all the same benefits as other Canadian citizens.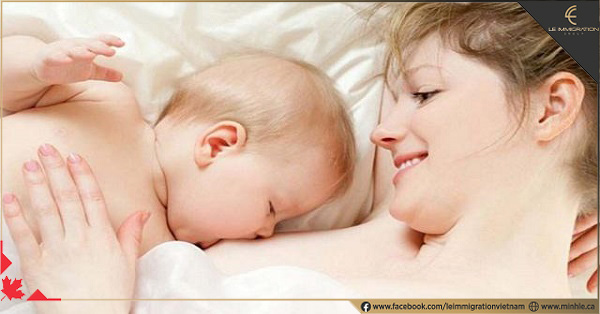 Children born on the territory of Canada will be granted citizenship of this country
Cost of giving birth in Canada
To ensure benefits for citizens of the entire territory, the Canadian healthcare system called Medicare was created and fully funded by the Government. Accordingly, citizens and permanent residents in this country enjoy free medical benefits. Therefore, if you have been granted a permanent resident card in Canada, you do not need to worry about the cost of having a baby.
Conversely, tourists or people who have not been granted a permanent resident card will have to pay the entire hospital bill themselves if they do not have international health care insurance.
Canadian international students have student health insurance, giving birth in this country only costs about 20% of the expected cost. However, it is necessary to meet the following conditions: pregnancy after the insurance is registered, and the child born while the insurance is still valid.
The cost of giving birth in Canada is specifically calculated as follows:
| | | |
| --- | --- | --- |
| Health care services in Canada | Average cost without insurance (CAD) | Average cost with international insurance or Medicare (CAD) |
| Prenatal care for one visit | 100 – 500  | 0 |
| Fetal screening before birth | 300 – 500 | 0 – 300 |
| Normal birth | 5.000 – 8.000 | 0 – 1.000 |
| Cesarean | 10.000 – 12.000 | 0 – 1.000 |
| The midwives visit | 2.500 | 860 – 2.500 |
Cost of giving birth in Canada
Note, this cost table does not include hospital meals, or problems that may arise during childbirth.
How to apply for a birth certificate for a child in Canada?
Each Canadian province has its own process for applying for a birth certificate. For example, in Ontario, each child's birth must be registered within 30 days of birth.
Once you've registered and obtained a birth certificate as proof of Canadian citizenship, you can apply for a citizenship passport for your child. Documents to be prepared include:
Passport application form.

Child's birth certificate.

02 photos for passport.
Then, you send the prepared documents to the Canadian passport authority at: Gatineau QC K1A 0G3, Canada.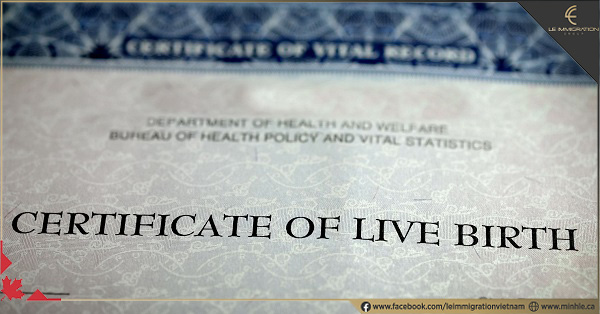 Documents to prepare to make a birth certificate for a child
Rights and privileges of children born in Canada
If you are already a permanent resident and your child is allowed to stay in Canada, what benefits will the child receive? Children will certainly enjoy the same policies as other Canadian citizens, including:
There is a right to free school up to the age of 18, as long as a parent or guardian lives in the vicinity of the school.

Access to the free healthcare system.

Finding a job is easy after graduation.

You have the right to vote when you reach the age of 18.
What to do in case you give birth in Canada but do not have a permanent resident card in this country? At the age of 18, when children reach the age of majority and do not need a guardian, children can come to Canada to live, study and enjoy the same benefits as Canadian citizens. In addition, when the child reaches 18 years old, the child can write a letter to sponsor you to Canada.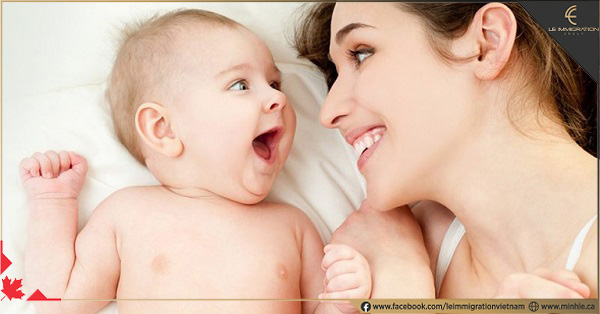 What rights and privileges do children born in Canada have?
Above is all information about giving birth in Canada that Le Immigration Group has compiled and shared with you. Canada is considered one of the most livable countries today. Therefore, many people plan to settle down in this country to provide the best life for their children in the future. Canada's immigration policy is increasingly open to facilitate and attract workers to this country. Therefore, in addition to giving birth in Canada to help children have dual Vietnamese – Canadian citizenship, you can also refer to other immigration programs.
If you need more detailed advice on Canadian immigration programs, please contact Le Immigration Group at our Hotline: 0937 168 599 for our best support. Thank you for your interest, and we are looking forward to hearing from you!