Ontario attracts thousands of IT immigrants
Admin
Ontario held the largest PNP Draw of 2021 to attract thousands of information technology candidates to live and work here.

Thousands of IT candidates have received invitations to immigrate to Ontario.
On October 27, Ontario held a Provincial Nominee Program (PNP) draw and issued 1,406 Invitations to Apply (ITAs) to Express Entry candidates with experience in the Information Technology sector.
Candidates who were granted an ITA in this Draw created a profile in the Express Entry System with a CRS Comprehensive Score of 455 to 467. In addition, applicants are required to have 1 year of work experience in the following occupations:
Computer and information systems managers (NOC 0213);

Computer engineers (NOC 2147);

Database analysts and data administrators (NOC 2172);

Software engineers and designers (NOC 2173);

Computer programmer and interactive media developers (NOC 2174); or

Web designers and developers (NOC 2175).
These candidates will have 45 days from receiving their ITA to apply for the Ontario Provincial Nominee Program (OINP) through Ontario's Express Entry Human Capital Priorities.
This is the second largest "recruiting" of technology talent in the province of Ontario this year. In the first draw, more than 1,100 candidates received an invitation to immigrate, also through Ontario's Express Entry Human Capital Priorities stream.
Ontario Immigration: Information Technology has never been this HOT
According to a report by the Information and Communications Technology Council of Canada, 40% of tech workers are immigrants. Technological human resources are mainly concentrated in the provinces that are considered as the "big boys" of the technology industry in Canada such as Ontario or British Columbia.
With the ambition to create a new Silicon Valley in the land of maple leaves, Ontario has never stopped welcoming technology workers from around the world to settle down and contribute to the development of the Province. For this reason, Ontario always gives a certain preference to candidates with skills and experience in this field by atracting immigration through many outstanding programs such as:
OINP Employer Job Offer: Foreign Worker stream

OINP tech draws – program for candidates with Skills in the field of information technology.

OINP Express Entry Human Capital Priorities – Program affiliated with the Federal Express Entry System to find technology talent.

Start-up Visa

– Start-up visa program for candidates who wish to open a business in Canada.
Opportunity to settle in Ontario IT industry with Le Immigration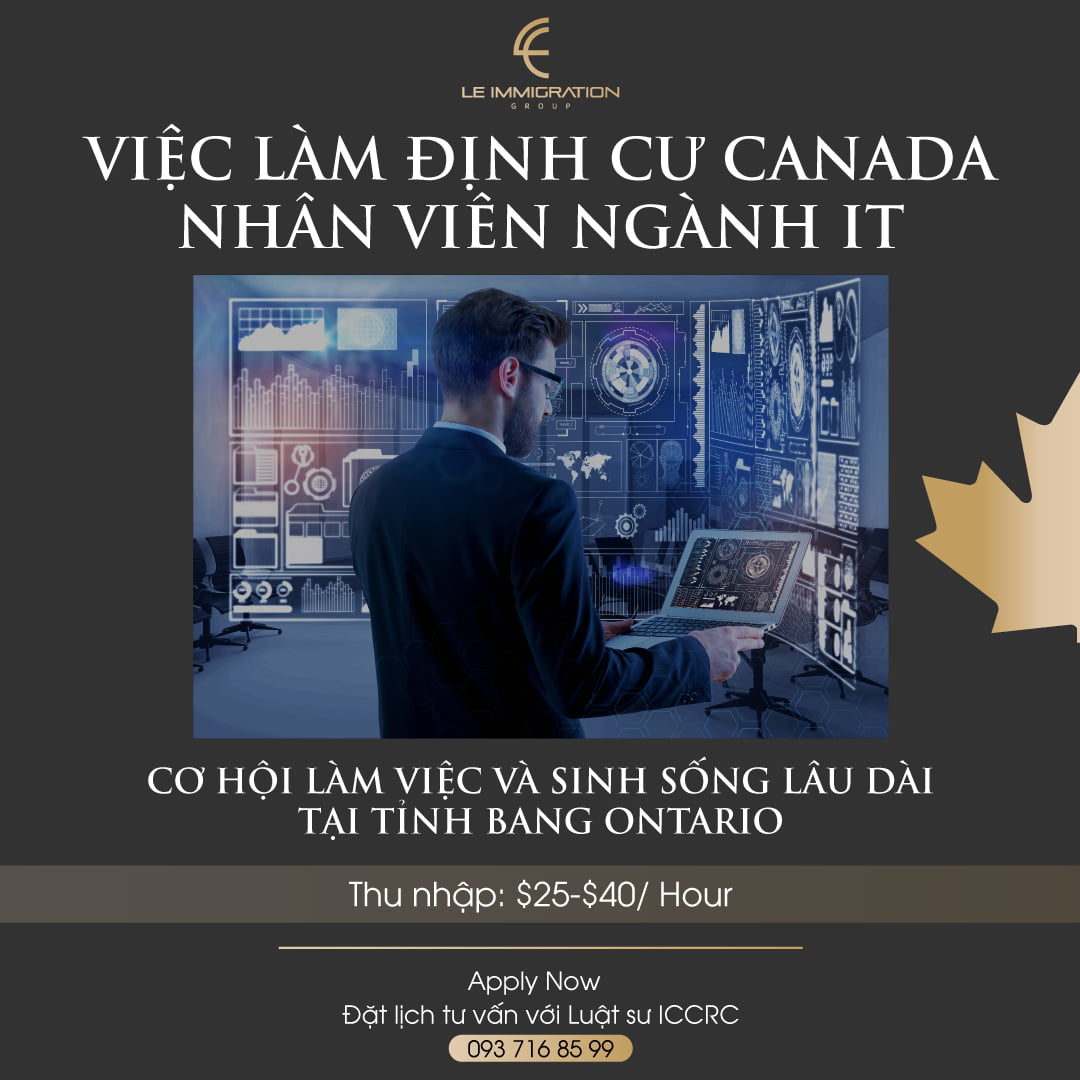 Le Immigration brings many job opportunities to clients with working experience in information technology. Candidates will have the opportunity to work and settle in Canada under the OINP – Employer Job Offer: Foreign Worker stream program.
Job: IT staff

Position: 

Software Developer

,

Web Developer

,

Computer Network Technician

,

Information System Testing Technician

Type: Full-time

Place of work: Province of Ontario

Income level: $25-$40/hour
Candidates will receive a Job offer from the employer through the recommendation of Le Immigration. This is an important basis for candidates to submit a provincial nomination and become a Canadian permanent resident.
Conditions to participate in the program
To participate in the program, applicants must meet the following conditions:
IELTS 5.0+ (with diploma);

Have more than 2 years of working experience in the required position;

Have degrees and certificates related to the information technology industry;

Good health and No criminal record.
Benefits of applying for IT positions in Ontario under the OINP program
The OINP Employer Job Offer is an immigration program with a job offer from a Provincial employer for highly skilled workers who want to live and work in Ontario. When applying for the program, candidates will have the opportunity to:
Work and become a Permanent Resident of Canada;

Receive salary and full benefits according to Canadian regulations;

Spouses and children under the age of 22 simultaneously become permanent residents when the applicant has PR.

Children are exempt from tuition until the age of 18 in the public school system when the applicant has PR.

Get health care benefits for the whole family from the world's most modern medical system, with the support of health insurance.
Contact Le Immigration immediately for advice to help your family immigrate to Canada!