Latest update on Canadian Immigration Plan 2021-2023
Admin
Certainly we cannot predict the future success of the Canadian immigration plan for 2021-2023. But this is for sure the golden time to invest in Canada for your family's future.
---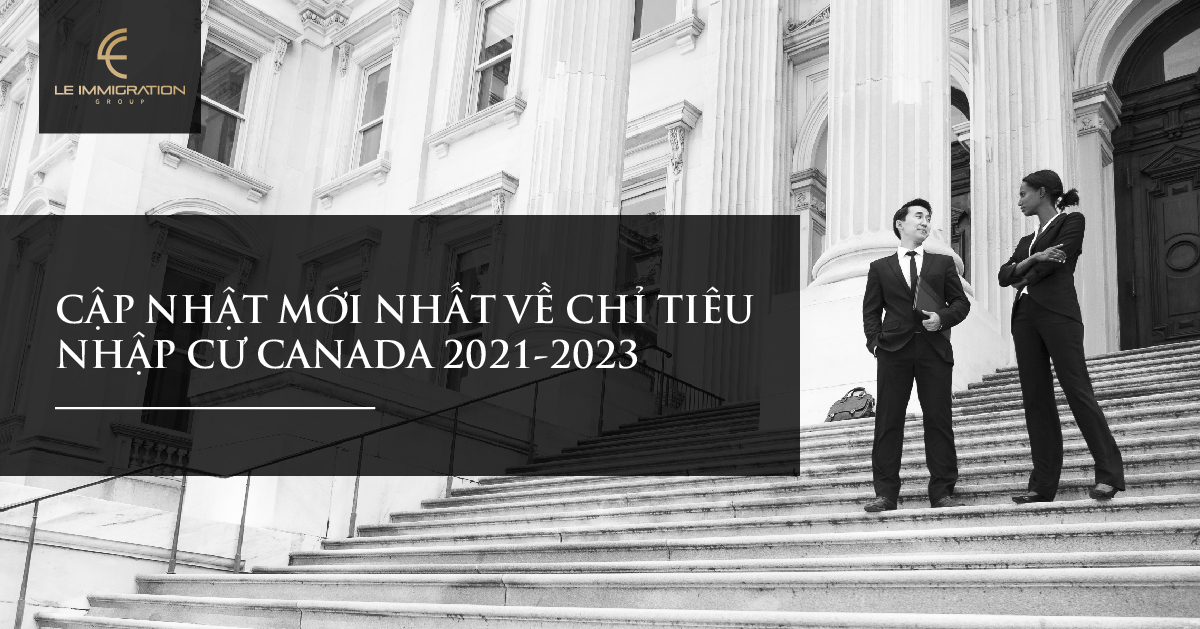 In October 2020, the Government of Canada announced the Immigration Plan for 2021-2023. Canada is aiming for the highest immigration levels in the country's history.
Over the next three years, Canada is expected to add a specific number of new permanent residents as follows:
2021: 401,000 immigrants

2022: 411,000 immigrants

2023: 421,000 immigrants
Why has Canada announced the highest immigration levels in history?
In history, the only time Canada accepted more than 400,000 immigrants in a single year was in 1913, when the country received 401,000 immigrants. This is the second time Canada has committed to such a high level of immigration over the three-year period, from 2021 to 2023.
Here are 3 main reasons:
Offsetting the negative economic and financial impacts of aging populations and low birth rates. (18% of Canada's population is 65 years of age or older; 9 million will reach retirement age by 2030; birth rate is about 1.6 children per couple, while what is needed to maintain population size is 2.1.)

The number of immigrants has dropped significantly and the immigrant visa processing process has been disrupted due to Canada's entry restriction order from March 2020 in response to the outbreak of the Covid-19 pandemic.

Address the challenge of economic recovery and support future government spending. Immigrants play an important role in filling labor shortages, while promoting, opening businesses, and creating jobs for Canadians.
Group of key settlement programs in the immigration plan 2021-2023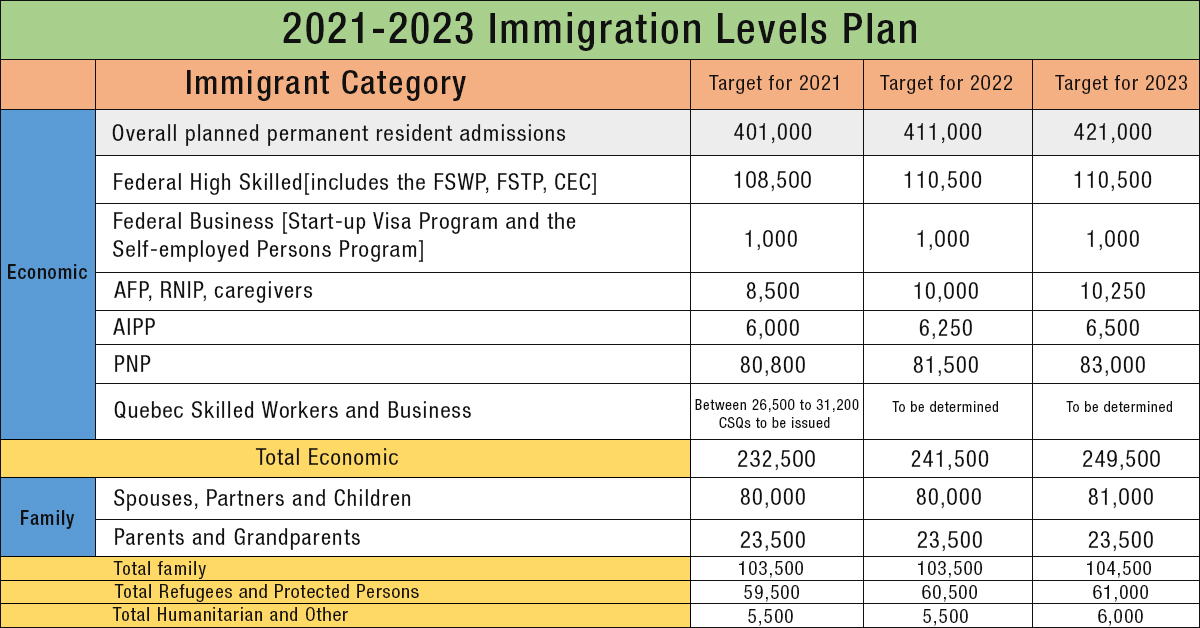 According to the published data, the category of economic immigration programs (Economic Class) accounts for nearly 60%, including key program groups:
Federal Skilled Worker Group:

Includes 3 programs in

the Express Entry system:
Federal Skilled Worker Program;

Federal Skilled Trades Program;

Canadian Experience Class Program.
Provincial Skill Group:
Provincial Nominee Programs – PNP:

Ontario (OINP)

,

Saskatchewan (SINP)

, British Columbia (BCPNP), Alberta (ANIP), Manitoba (MPNP), New Brunswick (NBPNP), Newfoundland and Labrador (NLPNP), Nova Scotia (NSNP), Prince Edward Island (PEIPNP) Northwest Territories (NTNP), Yukon (YNP);

Agricultural and health pilot programs: RNIP (Rural and Northern Immigration Pilot) Program, AFP (Agri-Food Pilot) Program, Caregivers Program.
Federal Entrepreneurs Group:

Visa Start-up Entrepreneur Program.

Provincial Business:

Ontario, Saskatchewan, British Columbia, Alberta, Manitoba, New Brunswick, Newfoundland and Labrador, Nova Scotia, Prince Edward Island, Northwest Territories, Yukon.
Highlights of the Canadian Immigration Plan in 2021
In the context of the current COVID pandemic situation, completing the target of 401,000 immigrants to Canada in 2021 is not a small challenge. However, it is clear that the government has been putting all efforts into meeting the initial set of goals. Specifically:
In February 2021

, for the first time in history, the government gave an astounding gift in the

#176 Express Entry Draw

with a record number of 27,332 invitations to candidates under the CEC (Canadian Experience Class) with a record low CRS (Comprehensive Ranking System) score of 75 points.

On April 12

, 2021, Canada's Immigration Minister – Marco Mendicino, launched special immigration programs (temporary policies) granting permanent residency to 90,000 international graduate students, working foreigners, and French-speaking immigrants currently residing in Canada:
20,000 applications from temporary foreign workers in the health care sector;

30,000 applications from temporary foreign workers in other selective occupations; and

40,000 applications from international students who have graduated from a college/university in Canada.
On April 13

, 2021, Immigration, Refugees and Citizenship Canada (IRCC) released data showing that 70,000 immigrants had an invitation for permanent residence in the first quarter of 2021, focused on key programs including Express Entry, PNPs, Start-up Visa.

On July 29

, 2021, IRCC continued to publish a report showing that Canada welcomed about 143,000 new permanent residents in the first 2 quarters of the year – More than a third of the target for 2021 was completed.

On September 7, 2021

, the border is completely open to tourists, fully vaccinated immigrants from all countries.
6. It is expected that Canada will record an explosive number of immigration in the last two quarters of 2021, when the restriction on entry has been completely relaxed. (*Updated when data is available from IRCC)

---
In an article in the Globe and Mail in August 2021, Former Immigration Minister Marco Mendicino affirmed: "We will make good on our commitment to 401,000 new permanent residents."
*Note: On October 26, 2021, Canada announced Mr. Sean Fraser as Canada's new Minister of Immigration, Refugees and Citizenship, replacing Mr. Marco Mendicino, now serving as Minister of Public Safety of Canada.
Immigration Golden Era 2021-2023
We cannot predict with certainty the successful future of the Canada immigration Plan for 2021-2023. But this is surely the "golden" time to invest in Canada. Here are some suggestions for Vietnamese people who are interested in acquiring a Canadian green card in the near future:
For international students and workers in Canada:

Express Entry

is the best route because the candidate has had experience of working and studying in Canada for a certain period of time.

For foreign skilled workers:

Provincial Nomination is an effective way, helping candidates immigrate to Canada with available skills and working experience, receive a Work Permit and then a Permanent Resident (PR) status. Candidates can consider settling in Provinces including

Ontario – OINP

,

Saskatchewan – SINP

,

New Brunswick – AIPP

.

For Entrepreneurs and families with stable finance capacity, who want to get PR directly and quickly:

Start-up Visa

is a potential program and has the highest visa success rate so far. 
Should you have any questions about Canada immigration documents and procedures, please feel free to contact us at the following information:
The Immigration Group
Address:

  277-279, Ly Tu Trong, Ben Thanh Ward, District 1, HCMC.

Phone number:

  0937-168-599.

Website:

https://minhle.ca/
Le Immigration Group is pleased to accompany you on the path to realizing your dream of living in Canada with the whole family.