Top 8 reasons why Canadian Immigration applications are denied
Admin
Applying for a Canadian visa yourself is certainly risky if you are not familiar with the huge system of immigration programs. In fact, there have been many cases of application rejection due to incorrect information or improper submission of the application process as required by the Immigration Department.
---
Every year, thousands of people are granted Visas to Canada by the Department of Immigration to study, work and live, but there are also many visa refusals. Here are the top 10 mistakes you can avoid when applying for permanent or temporary residency in Canada:

You did not sign the Application Form
This often happens when applicants do not fully sign the Immigration Department's requirements for certain declarations. For example, the attached family member declaration may require up to 3 signatures on a single form, depending on spouse or children. Often the applicant will sign at the bottom of the page, forgetting the other two signatures that are also required in the middle of the page. Any immigration applications on file that are not fully signed will be returned in a few weeks (or even months).
Remember to check immigration applications carefully and only sign correctly and completely where required.
Your Image size is incorrect
The IRCC application guidelines require specific photo sizes for different types of immigration applications. Photos must be of a certain size to fit the forms required by IRCC. As a result, the immigration application will be returned if the correct photo size is not submitted.
You submitted only the documents on the IRCC checklist
Why not just provide exactly the documents that IRCC requires? Because sometimes the profile listed is not enough for your application to be approved.
Example: If a couple from abroad intends to move to Canada under the sponsorship application, a letter or affidavit from a family member in Canada demonstrating the degree of independence by providing accommodation: can make the application review process much smoother and faster. Another example: if you are an unmarried couple, it is important for the applicant to provide an affidavit from friends and family that attests to their relationship and states that the relationship is real and committed to future marriage.
Additional evidence to submit with the immigration application depends on the actual circumstances of each case, such as phone recordings, bank statements, rental documents, correspondence, text messages, Facebook messages, etc. can be very helpful in speeding up the review process and getting better results.
Providing false information or failing to explain missing information
Providing false information in an application is a serious offence under Canadian immigration law. IRCC relies on the information provided by the applicant to make decisions about the application, and it expects that the information provided is truthful.
The consequences of providing false information are application denials and possible removal from Canada for at least 2 years or more.
The difficulty is that even unintentional errors can be considered misinformation and cause an application to be rejected immediately.
If your application is missing information that IRCC requires, it is important to explain why the information is missing and when the information will be provided. Otherwise, your application will be returned without hesitation.
Fill out the immigration application forms by hand
According to Le Immigration's advice, candidates should fill out the application online or use software such as Adobe Reader instead of filling it out by hand.
Hand-filled forms can make it difficult for visa officers to understand when reviewing applications. Therefore, the application will be at risk of being returned if the visa officer is not completely sure of the answers in the available questionnaire.
Equally important, handwritten forms cannot be verified. A verified form, using Adobe Reader, generates a series of barcodes that IRCC can quickly enter into their computer system. Handwritten application forms can slow down timely application processing.
Another benefit of using a computer to complete immigration forms is that you can save them to your hard drive and print the forms if needed in the future, or update any forms as required. request of the visa officer. It is much easier to update forms when they are saved on a computer than by handwriting.
6. Cover Letter is not attached
While not adversely affecting your immigration application, failure to provide a Cover Letter may result in a delay in processing your application.
The Cover Letter will help IRCC determine who the applicant is, what the application is for and the main reasons why the applicant is eligible to immigrate, this makes it easier for visa officers to review the application. faster processing of records.
In Le Immigration's experience, applicants should not submit an application without a Cover Letter affirming their legal right to immigrate to Canada in accordance with applicable laws and policies.
Wait for the criminal background check before applying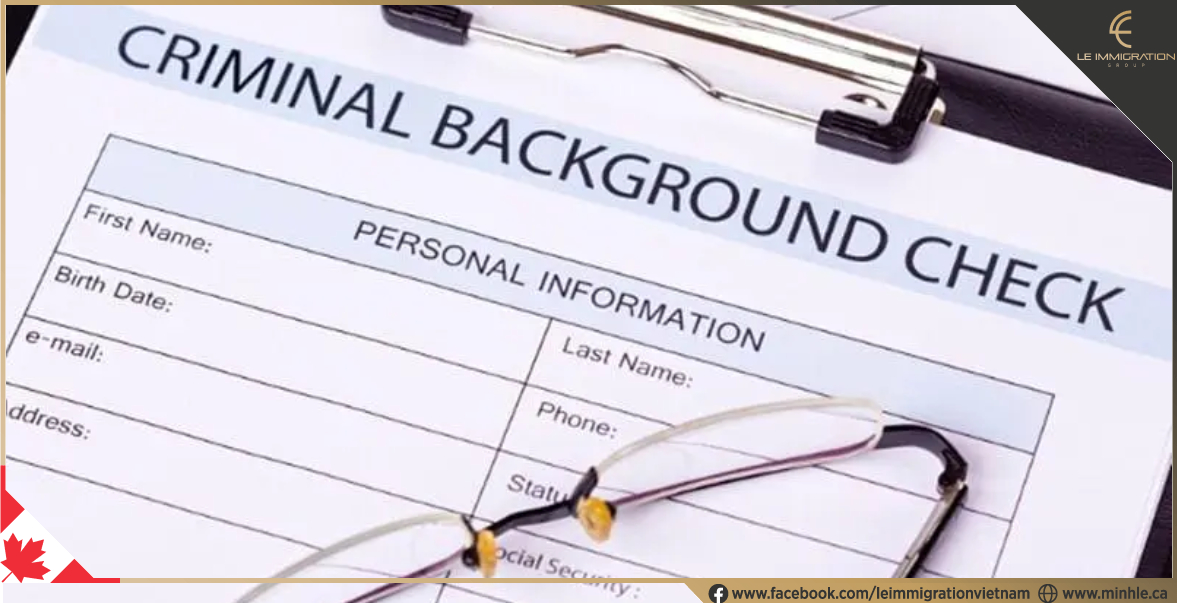 Usually applicants will wait for a criminal background check before applying. However, this is not recommended by IRCC as it may result in the application being ineligible for review at the time of application.
Anyone who has been following the Canadian immigration system lately has seen countless changes that have happened in a short period of time. If you wait too long to submit your application, the rules can change, and all of a sudden you are no longer eligible.
Except for applications for Temporary Residence Permit or Criminal Rehabilitation, IRCC does not require a criminal background check to process applications. Criminal background check is a sufficient condition, and does not apply to entry status. You can apply immediately, then file a criminal background check a few weeks or months later
Send the application by mail
If IRCC requires you to mail your application to the office for processing, it's best to use a reputable mail carrier, or better yet, use a courier service. This allows you to track your application and determine if it has been submitted to IRCC.
Errors in your Canadian immigration application can cost you time, money, or may result in your application being denied. There is no guarantee of application success, but avoiding these 8 immigration mistakes will give your application a better chance of success.
This posting does not constitute legal advice. Therefore, Le Immigration's advice is that you should consult a lawyer for an in-depth assessment in each specific case and increase the advantage of processing applications from the Department of Immigration. Good luck!
Source: ackahlaw.com