Entering Canada with a criminal record – Some frequently asked questions
Admin
Every year, countless individuals are denied to enter Canada because of criminal records. Let's answer some frequently asked questions related to this issue with Le Immigration!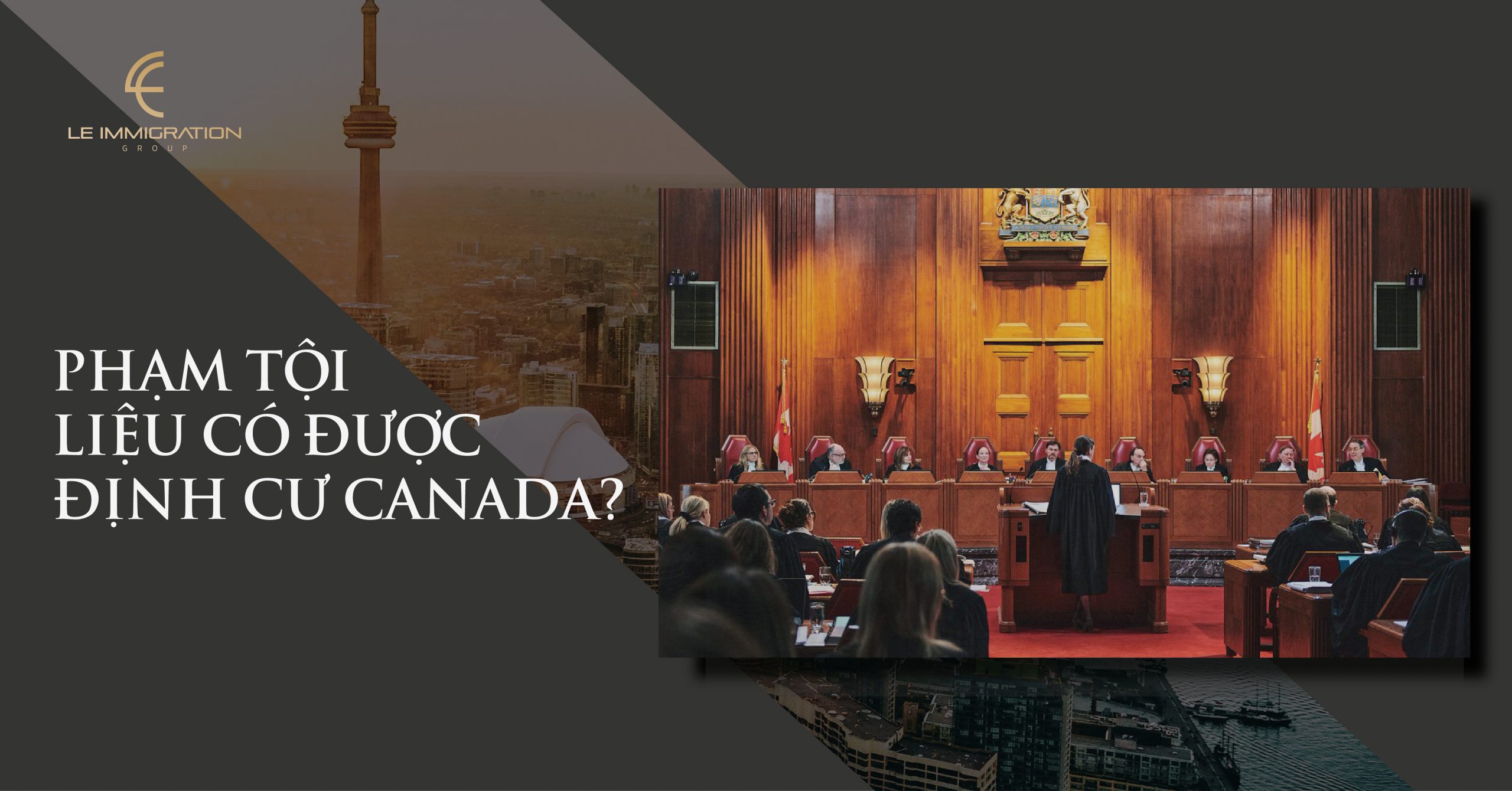 Anyone planning to enter Canada for the purpose of immigrating, studying, working, or simply sightseeing may be banned if they have a criminal record. Even minor violations can result in an individual being barred from entering Canada.
The Immigration and Refugee Protection Act (IRPA) identifies a number of factors that lead to an individual being denied entry to Canada. These factors include:
Does not meet the conditions of Canadian immigration programs

Health reasons

Have a criminal record 
Here are some of the most common questions regarding criminal records when entering Canada:
1. Are criminals allowed to enter Canada?
May and May not
This depends on a number of factors for which you have been charged or convicted, the length of your sentence, and the type of sentence you received. In addition, Canada also looks at how long it has been since you committed the violation, and completed the sentence. 
However, the most important thing to do is to look at the crimes under Canadian Law. Canadian criminal law classifies crimes into two categories: those prosecuted under the Summary process and those charged under the Indictment. That is how to distinguish between misdemeanors and felonies under Canadian law. Accordingly, immigration officers may consider skipping a conviction under the Summary Process .
However, if you are convicted of more than one crime under the Summary Process, you will also not be allowed to enter Canada.
2. How to know if my case is under a Summary Process or an Indictment?
You Should Work With a Canadian Attorney!
By consulting under the Canadian Penal Code or other applicable Federal laws, the Attorney will find a crime or conviction with equivalent cause under Canadian law. After that, you will know whether your crime is under the Summary Process or the Indictment.
The equivalent crime is an important factor that Immigration Services considers to allow you to enter Canada.
In the event that this equivalent violation is a mixed one, which means the conviction is either Process Summary or Indictment, you are also not allowed to enter Canada.
3. Under the Criminal Code, I might not be accepted. Is there any solution to this situation?
Yes
The Government of Canada offers short-term and long-term solutions called Temporary Residence Permit (TRP) and Criminal Rehabilitation Application (CR).
Temporary Residence Permit (TRP)
For individuals who want to come to Canada in an emergency, work-related or family situation. If successful, the registrants will receive a TRP valid for up to three years.
Criminal rehabilitation (CR)
Criminal rehabilitation is available to those who are eligible to have a past criminal history permanently cleared. If you have been convicted of a crime abroad, and it has been more than 5 years since the completion of your sentence, you are likely eligible to apply for rehabilitation in Canada.
CR allows you to remove your entry ban from entering Canada. If you have committed a crime abroad, and it has been more than 5 years since the completion of your sentence, you will be eligible to apply for rehabilitation. The Government of Canada will review CR applications for individuals who have experienced significant, positive changes since their convictions. Once reviewed, the CR will be in effect for life, as long as you do not reoffend in Canada.
4. I have just been arrested in the United States, can I go to Canada?
May and May not
Anyone who has been charged (with no criminal history) but has not been convicted can take steps to avoid being banned from entering Canada. A Canadian immigration attorney can draft a legal opinion letter with details regarding the person's allegations and the attorney's legal conclusion about the situation.
 The purpose of the letter is to clarify the legal issue, identify the risks with Canadian laws involved, and explain why the person should be considered to enter Canada.
5. Do Customs officers look up my criminal record when I try to enter Canada from the United States?
Yes
When a Canadian tries to enter the United States, their passports are linked to their RCMP (Royal Canadian Mounted Police) criminal records. The same occurs for a US resident trying to enter Canada from the United States. Upon entering Canada, US citizens are required to present their passport or travel document to an immigration officer for inspection.
The person's passport has a direct link to the FBI background check, where recent or previous DUIs may appear. Even if your charge or conviction is from several decades ago, it can still appear in this criminal record and be withheld if you wish to enter this Country.
6. Do I need to hire an Immigration Attorney?
Not required, but necessary
No one needs to hire an immigration attorney. Each person with a criminal record has a unique situation. The Canadian government's decision to allow you entry is a balance between national security and compassion.
However, Canadian Immigration Lawyers cannot guarantee that you will be admitted to Canada, but they can help you understand how your criminal history is reviewed under the Canadian law. They can also tell you whether your criminal history prevents you from entering the country. In addition, a lawyer who specializes in criminal cases may be able to find solutions for your inadmissibility when entering Canada.
Source: CIC News
If you have any questions about Canada immigration documents and procedures, please contact us at the following information:
The Immigration Group
Address:  277-279, Ly Tu Trong, Ben Thanh Ward, District 1, HCMC
Phone number:  0937-168-599
Website: https://minhle.ca/
Le Immigration Group is pleased to accompany you on the journey to realize the dream of settling down with the whole family.