Vietnam tops the list of Canada's Startup Visa approvals
Admin
Published data in September 2021 by Immigration Canada's IRCC showed that Vietnam topped the list of candidates receiving Start-up Visa approval letters, from 2015 to the first quarter of 2021.
---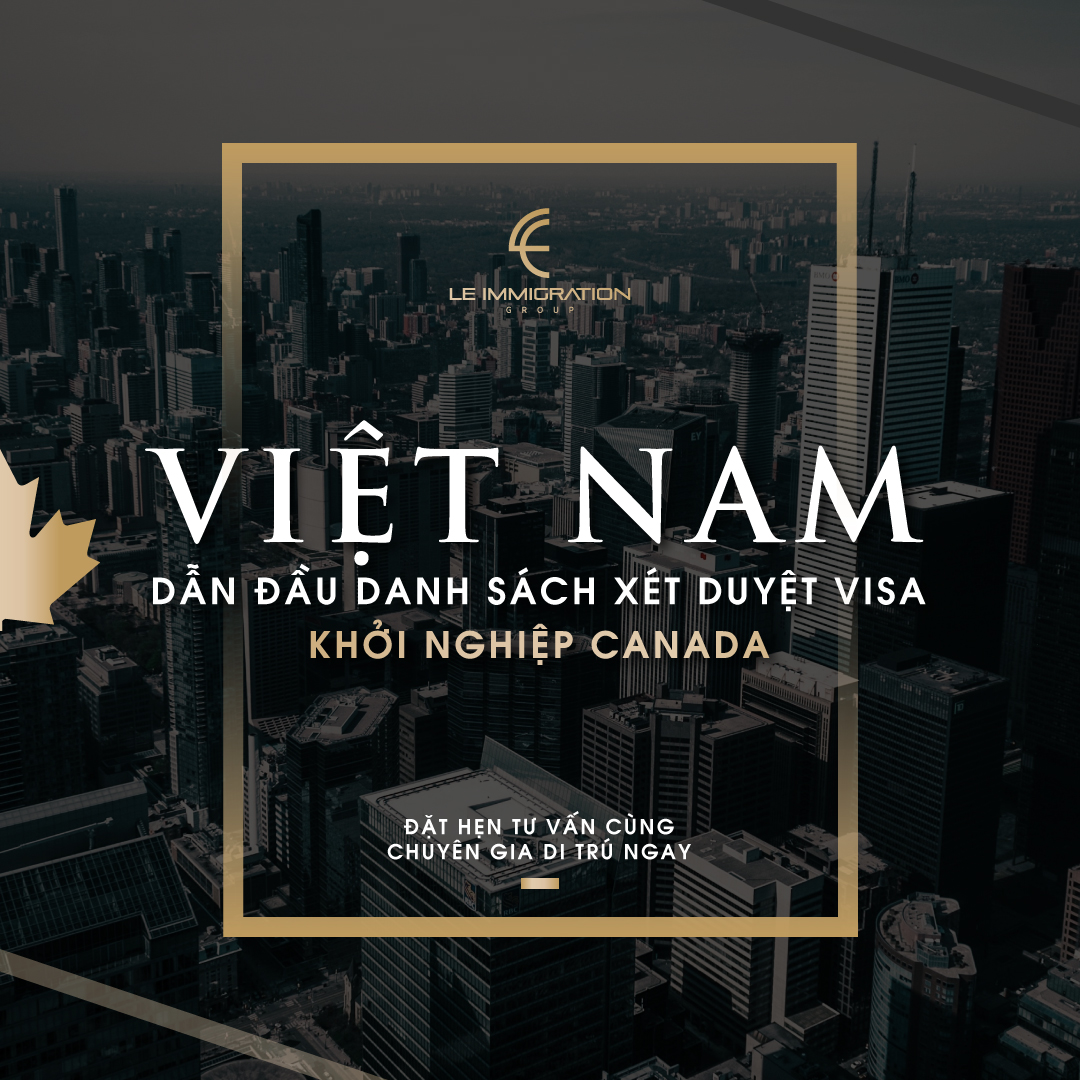 According to recent statistics from Immigration, Refugees and Citizenship Canada (IRCC), the Government of Canada has approved more than 1,462 foreign investors applied for a Start-up Canada Visa from 2015 until the first quarter (Q1) of 2021.
In which Vietnam ranked first, accounting for 17% of applications for Start-up visas (SUV), followed by India (16%), China (15%), and Iran (8%). In Q1 2021, 44% of approved applications were Vietnamese.
Why is Vietnam one of Canada's largest market for Startup Visa?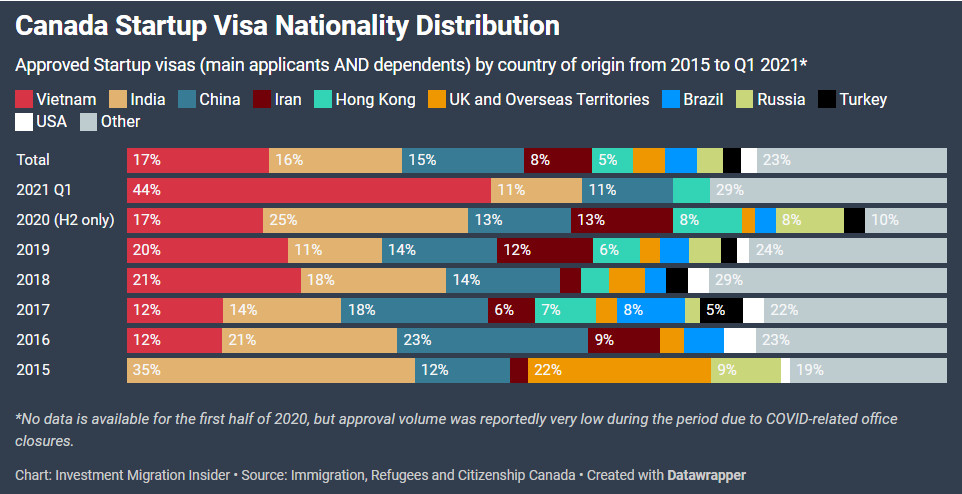 Percentage of candidates who approved Start-up Visa by nationality, from 2015 to present
Here are 4 reasons:
Vietnam is the country with the highest GARP –

Growth at a Reasonable Price

(7.8%) investment index at the beginning of 2020, followed by Turkey's GARP at 5.8%. Vietnam's GARP is 7.8% which means that for every 1,000,000 Vietnamese, about 28 of them are investors.

From 2015 to 2019, Vietnam's immigrant investment market grew 33% year-to-year. At this rate, the market size doubles every two years.

Vietnam has a population of nearly 100 million with a rapid economic growth at an average of 7% over the past decade. Even during the pandemic and the border was strictly closed (most Vietnamese were banned from leaving the country), the Vietnam's GDP (Gross Domestic Product) increased by 3%.

According to a report from Knight Frank, an international real estate agency, between 2015 and 2019, the number of millionaires in Vietnam increased by 129%.
Start-up Visa (SUV) has never been this HOT for immigration investors
Start-up Visa was created in 2013 with its predecessor as a pilot program and became official in April 2018. Immediately after the SUV took effect permanently, the number of approved applications tripled every year, from 231 applications in 2018 to 640 in 2019, before a sharp decline in 2020 due to the impact of the Covid pandemic, with only 120 applications in the last 6 months of the year (excluding the figures for the first 6 months of 2020 due to IRCC). These results lasted until the first quarter of 2021. According to the latest data, only 45 applications have been approved as of March 31, 2021. The reason for this decrease is that the three countries with the largest number of applicants are Vietnam, India and China, all of which are applying travel and exit restrictions.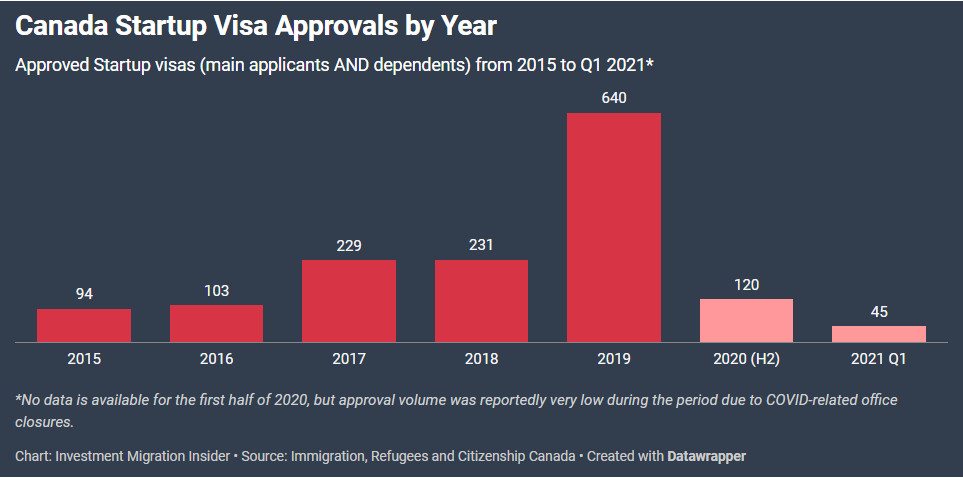 The number of applications for approval has dropped significantly due to countries imposing travel restrictions, to limit the spread of the Pandemic.
Currently most of the start-up visa applicants are supported by Investment Funds that are Business Incubators. Out of a total of 3,494 applications submitted between 2012 and 2020, 2,764 applications (79.1%) received letters of sponsor from business incubators.
Approval rates (excluding withdrawals and rejections) are also quite high, especially in the early years. In 2015, 85% of applications were approved. In 2016, almost all the applications were successful: 103 applications were approved out of 104 submissions and 1 application was withdrawn before being processed.
The overall success rate of the SUV program stands at 76.3%. This ratio will vary according to the type of designated organizations — business incubators, angel investors, and venture capital funds.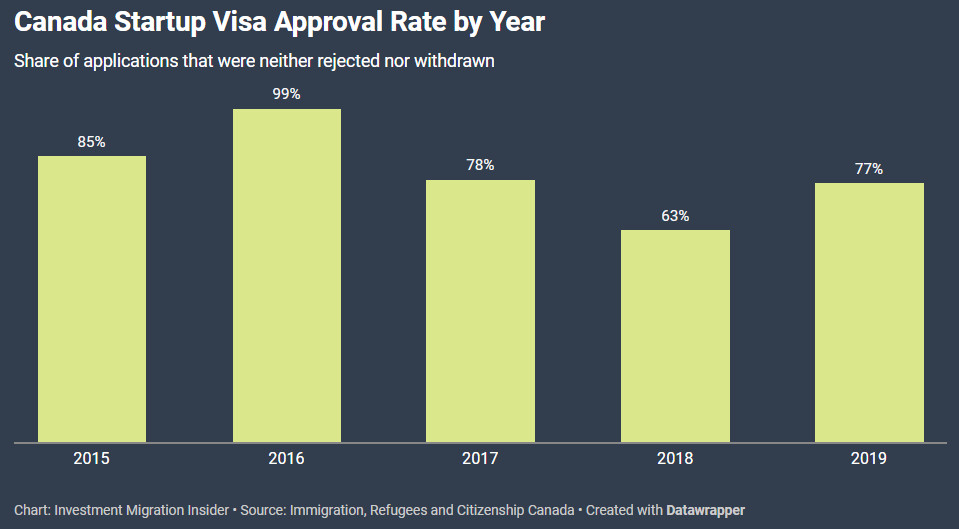 Start-up Visa approval rate before the Covid-19 pandemic
SUV attracts the attention of many applicants around the world because it allows you to go directly to permanent residency (PR) without going through a work permit like the Provincial immigration programs. This allows the candidate and his family to reside anywhere in Canada, not tied to the locality where the business is registered, and permanent residency is not affected by the success or failure of the Start project. -up. In addition, the low requirement for a foreign language certificate (IELTS General 5.0) and no proof of assets and finance in Vietnam are also two outstanding points of SUVs compared to most other national settlement programs. 
In order to recruit talented people with high qualifications, creative business ideas and ambitions to build businesses, the Canadian government has always favored this program. In addition to the above-mentioned outstanding benefits, the current SUV approval time is only about 12-16 months, which is considered the fastest in the immigration process by IRCC Canada.
Investment Immigration Start-up Visa – Choose a reputable and legal immigration consulting company!
Canada's current immigration law strictly stipulates: "Individuals who are licensed by the Government of Canada to act as legal immigration consultants (referred to as ICCRC) are entitled to provide immigration counselling services, study abroad, travel – apply for a visa to Canada"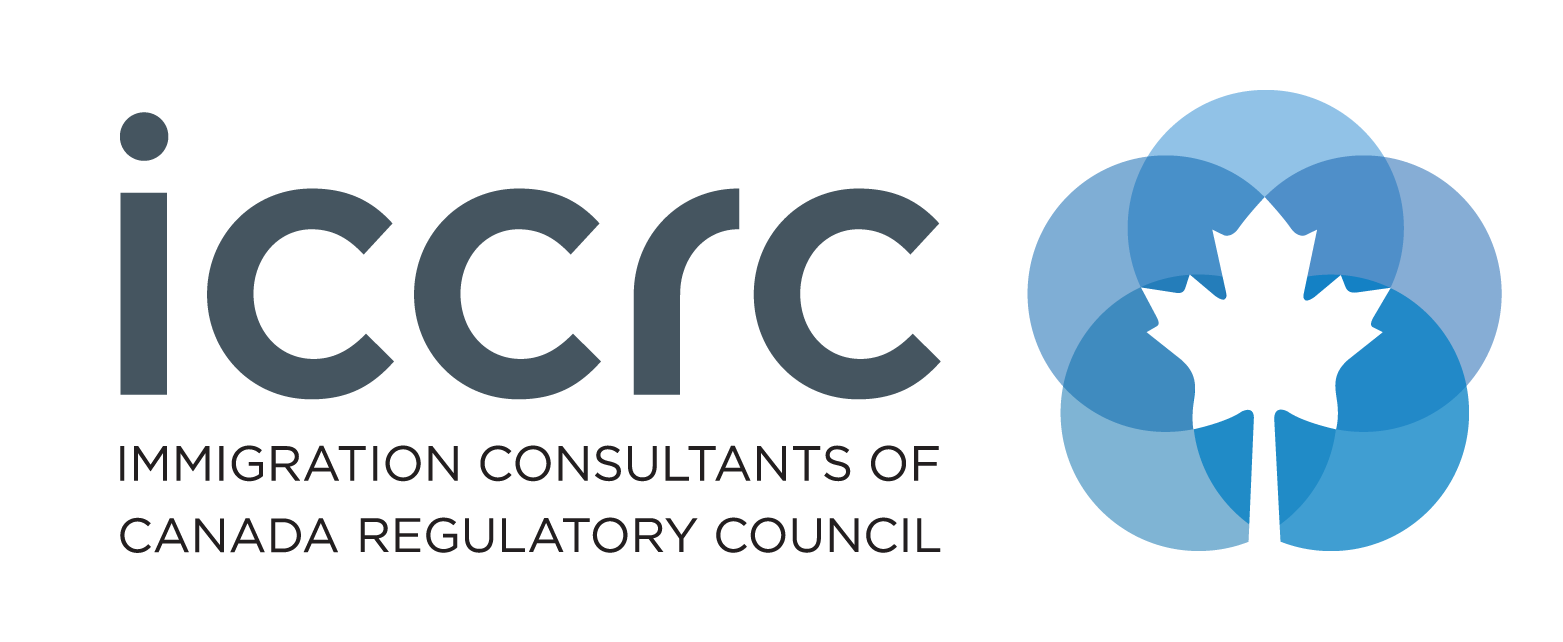 Finding and working with a legal Canadian immigration consultant – a certified unit from ICCRC – is one of the major factors contributing to the success of the Start-up Visa application. When researching immigration consulting firms, the first thing to do is ask the company for their ICCRC registration code. You can look up this number directly on the ICCRC website.
Le Immigration provides a complete consulting service on Start-up Visa Canada for global entrepreneurs wishing to live and work in Canada. We have the legal right to represent the client's case and handle the Startup visa application process on behalf of the client from the start of the application until the client becomes a Canadian and holds a Canadian passport.
Currently, Le Immigration has supported more than 50 immigration SUV applications from around the world, of which 30 are from Vietnam with the exclusive support of Canada's largest business incubator, YEDI.
With a team of experienced lawyers and leading experts in business, technology and innovation, Le Immigration is committed to helping you complete your startup project and get PR for the whole family.
Support entrepreneurs to implement Start-up projects and perfect ideas to convince investors;

Training in essential skills such as presentation and business management;

Cooperating with the YEDI Investment Fund to successfully raise capital and operate businesses in Canada;

The case processing lawyer is an ICCRC member, helping to process the application quickly and accurately;

Support for "settling down" for the whole family when moving to Canada.
With such outstanding advantages and high chances of success, you can contact Le Immigration Group now for advice on immigrating to Canada under the Start-up Visa!